At a Glance
Expert's Rating
Pros
Easy shopping for Amazon books, music, videos
Smooth integration of cloud and local storage
Cons
Sluggish performance
Not as flexible and versatile as other tablets
Interface still has some bugs
Our Verdict
The 7-inch, Android-based Amazon Fire will appeal to those who buy books, videos, and music at Amazon, but it will frustrate those looking for a more versatile slate.
All eyes are on the Amazon Kindle Fire to provide fresh competition for Apple's iPad 2, today's dominant tablet. Not so fast: Beneath the Kindle Fire's slick veneer and unparalleled shopping integration lies a tablet that fails to impress as either a tablet or as an e-reader. The Kindle Fire ($200 as of November 15, 2011) is best considered a relatively inexpensive, hassle-free but flawed way to consume books, music, and videos purchased at Amazon. As a tablet, though, the Fire can't hold a candle to the best tablets available today: It has subpar specs, a limited interface, and a surprisingly messy app store.
When the Fire was introduced, I immediately wondered where it would fit into the overall tablet universe. It runs a custom operating system based on Android 2.3, it limits you to buying apps solely via the Amazon Appstore, and it has just 8GB of storage, all red flags that made this tablet stand out as a curiosity amidst the Android crowd. But at $200, and with the colossal weight of Amazon behind it, the Fire automatically became worth talking about.
The Fire's integration with Amazon's media storefronts is, bar none, the best thing about this tablet. Rather than giving you one place to shop and another to use your digital media, Amazon consolidates those experiences into one. The Newsstand, Books, Music, and Apps tabs all take you to your personal library first, and then offer a prominent but not offensive option to go to the store for that category. (The exception to this arrangement is the Video tab, which deposits you in the video storefront first, and then lets you hopscotch into your personal Library.) The seamless interface makes acquiring content of any kind–be it for ownership, or, in the case of movies and TV shows, streaming or rental–the best media experience of any I've tried on a tablet.
In most other respects, though, the Kindle Fire left a tepid impression at best. Let's walk through the device step-by-step to see which marks it hits and which ones it misses.
Kindle Fire: Simple Design
Physically, the Kindle Fire does little to distinguish itself. Contrary to some reports, it really doesn't resemble black tablets like the RIM BlackBerry PlayBook, which was rumored to to be Amazon's starting point for the Kindle Fire. In fact, the Fire is smaller than the PlayBook, measuring 7.5 by 4.7 by 0.45 inches, and weighing 0.91 pound. That's a hair heavier than the Barnes & Noble Nook Tablet and T-Mobile SpringBoard (each of which weighs 0.88 pound), and noticeably heavier than the Samsung Galaxy Tab 7.0 Plus, which weighs 0.77 pound.
While the Fire didn't feel especially heavy or tiresome to hold in one hand while I was reading, its weight is still less than ideal. In fact, my survey of five colleagues saw a clear preference for the weight and balance of the Galaxy Tab 7.0 Plus. All preferred the Fire's velvety back, which has a smooth, rubberized texture that makes it easy to hold.
Overall, the Fire has a curious design. An asymmetrical black bezel surrounds the 7-inch display (it's thicker along the bottom when you hold it in portrait mode). The tablet takes simplicity to the extreme. It sports just one button, a sleep/wake/power button at the bottom edge. I like that the button is easy to press, and that it glows red when the device is charging, but it's also too easy to invoke accidentally. Next to the power button are the Micro-USB port (for charging and transferring data) and the headphone jack.
Both of the Fire's speakers are located along one edge (the top in portrait mode, or the left in landscape). That means you'll lose the stereo effect no matter how you hold the Fire, and you'll likely end up covering one of the speakers with your hand when holding it in landscape.
The only cabling included is a wall charger; you'll need to supply your own USB cable (if you want to transfer data between your PC and the Fire) and headphones. The tablet handles volume control entirely via software, and in my tests that proved problematic time and again, especially in apps (more on this later).
When you first start up the tablet, the Fire walks you through a few simple setup points, and then deposits you into your home screen–the same screen you land in when you swipe to the left to unlock the device.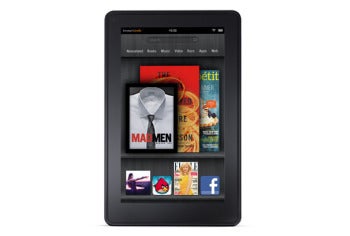 The home screen has a search bar at the top, with tabs for Newsstand (where you access various periodicals), Books, Music, Video, Docs, Apps, and Web beneath. At the center of the home screen is a carousel that shows your most recent acquisitions or most recently accessed content of any sort–books, periodicals, music, videos, websites, apps–in reverse order, with the latest on top. You can flip through these, and they go by surprisingly quickly, but I found it bothersome to find age-old books I'd bought showing up in this carousel, even though I hadn't downloaded the books from my cloud archive to the device (at least the same didn't happen with my sizable Amazon music collection).
At the bottom of the home screen is a Favorites shelf. The Kindle Fire comes with Amazon's Appstore app, the Pulse reader app, the IMDb app, and the Facebook app icon pinned there already. Temper your enthusiasm, though: The Facebook "app" merely leads you off to the mobile version of the Facebook site.
The top of the home screen shows the name of your device, the time, the battery status, and the Wi-Fi status. It also features a "gears" button that calls up a pop-over menu for quick access to various settings like the rotation lock, the volume slider–your only volume control for the tablet–brightness, Wi-Fi, and sync (for use with Amazon's Whispernet synchronization between Kindle devices). It serves as the jumping-off point for the main settings menu, as well.
Want to go back to where you were previously? Tap on the sole, clearly delineated back arrow at the bottom of the screen. Or tap the home button, also clearly delineated, when it appears at the lower left. In apps, you can navigate by tapping the up arrow at the bottom of the screen, which in turn reveals the home, back, and menu buttons. But if you're viewing video in Amazon's video player, you'll need to swipe up from the bottom, since the player consumes the whole screen.
Overall, on the surface Amazon's grey-and-orange themed interface is an improvement over standard Android 2.3, with clearer labels and cleaner design on the whole.
As I noted already, Amazon did a good job of integrating its stores into the Fire's individual content sections. Visually, the bookshelf metaphor for content libraries works well, even if that presentation lacks the personalization that many users crave. Moving between the content you have in Amazon's cloud locker and locally stored stuff is as simple as choosing cloud or device; the two are clearly delineated by a consistent visual element throughout all of the libraries. Find something you love, or something to remove? Just tap the item's cover and hold down; you can then pick between adding it to the favorites bar on the home screen or removing it from the tablet entirely.
I like how the Amazon video player functions. Even if you're watching a video streamed on demand from the Amazon cloud, you can still easily skip ahead a bit. And if you miss a few moments, no problem: Tap the 10-second rewind for a quick fix.
The built-in email app will get the job done for the basics. Its layout, however, is not especially optimized for landscape orientation, as you'll find with an Android 3.x Honeycomb tablet. And if you back out of the email app to do something else and then return, it puts you at the top of your email list, not at the last message you were viewing.
Forget about multitasking as a whole. The Kindle Fire lacks shortcuts to make moving between content easier, as you'll find in standard Android 2.3 or in the tablet-optimized Android 3.x.
Amazon's contacts app is uninspiring–and surprisingly, the Kindle Fire doesn't come with a basic calendar or clock app, two standard inclusions in Honeycomb tablets.

For all the fuss made about Amazon's Silk Web browser, which uses a proxy server to cache frequently accessed sites and purportedly speed up surfing, I can't say I noticed much of a difference in my Web browsing. Maybe I didn't hit the popular sites, or maybe the difference is so minimal that it won't be obvious in casual use. The Fire's browser supports tabs, at least, which is an improvement over the standard Android 2.3 browser, but I'm still a bit leery of how Amazon manages the whole caching process. And so far I'm not convinced of the efficiency of the process.
Even the Docs tab didn't behave as I'd expected. I thought it logical that all documents I've transferred to the device would show there, but only PDFs appeared there. My Microsoft Word and Excel documents were accessible only via the included Quickoffice document-viewer app, under the Apps tab. If you want document creation or editing, you'll have to step up to the full Quickoffice Pro or another compatible office suite.
Apps and the Appstore
App behaviors were all over the map. With no Google Android Market on the Fire, the curated Amazon Appstore is your sole source for apps, short of sideloading apps from another source–something I don't expect of the average Kindle Fire owner. But at launch, Amazon's Appstore was disappointing, and my experience with apps as a whole weighed down my impression of the Kindle Fire as a tablet.
For one thing, most of the apps I downloaded ended up looking as if they were phone apps blown out to fit the big screen. This a problem for any Android 2.2 or 2.3 tablet, which is why we don't recommend such tablets at this point. (Android 3.x Honeycomb tablets may have similar issues with legacy apps, but at least those tablets can also run apps optimized for tablets.)
The difference between phone and tablet apps on a 7-inch screen can be huge. This shortcoming is particularly surprising since I'd have expected Amazon to handpick apps from its Appstore that best show off what the Kindle Fire can do. Instead, my random downloads produced apps with fuzzy, phone-ready graphics and menu design, and my searches revealed apps that won't even work right on the Kindle Fire because it lacks the necessary hardware. Even Angry Birds wasn't ready for prime time here–two versions of Angry Birds launched upside down, depending on how I held the tablet. Oops.
Kindle Fire Software: Clean but Buggy
For all the thoughtful design touches the Kindle Fire has, I found just as many glitchy behaviors. In all, they speak to premature software, and some things that Amazon may perhaps fix with future software updates.
For example, book page turns didn't always feel smooth, whereas highlighting passages gave me no issues. Animations and graphics were jerky, but the carousel on the home screen is insanely zippy.The well-presented music player is an improvement over that of standard Android 2.x tablets, but the interface is at times inconsistent (tapping on a song in the cloud brought up a jarringly Android-like menu). The Amazon-supplied on-screen keyboard has a good layout for typing, but I nonetheless found myself prone to a few more errors than I'm used to on other 7-inch Honeycomb tablets.
Other random issues I encountered: The keyboard in the Newsstand didn't work consistently in landscape mode, the device wouldn't always register various taps on the screen, and sometimes the interface ran away with itself (in one instance, when I zoomed in on a photo, the image moved every which way).
Although many of those problems are clearly software bugs that annoy, but don't impede use of the tablet, my bigger concerns lie with the image-quality compromises I identified with the Kindle Fire.
Let's start with the image gallery. Ordinarily a tablet's gallery lets you easily show off photos of family and friends. But the Kindle Fire's Gallery app limits the usefulness of this indispensable tool: It resizes all the photos loaded into the app–regardless of whether you add them by dragging and dropping to the tablet when it's connected to your PC, or whether you download the images via email. After resizing, images become soft and pixelated, and you can't zoom in on them (and when you try, all you get is a hot mess of blockiness).
One of my test images, for example, was resized to 486 by 324 from its original 3888 by 2592 pixels, which made for an unacceptable result. The issue lies entirely with Amazon's Gallery app. That same photo renders well in a random but kludgy free image viewer that I downloaded, exhibiting better color and saturation, and reasonably sharp detail. But in the Kindle Fire's native image gallery? Not even close.
Knowing that Amazon made such choices for users in the gallery makes me question what other trade-offs the company may have made in the name of its perceived greater good.
I can't help but wonder how much of what I saw on the Fire was a design decision that sacrificed one thing for another. My streaming and downloaded Amazon Instant Videos always looked soft, and often pixelated. Text was soft, too, in the Newsstand and in books at some font and text combinations. (I liked the Lucida font best, and even then it wasn't as smooth as I've seen on the most-capable Android tablets, including models with similar resolution and screen size.) Even audio playback was wonky: Audio reached a reasonable volume and body for music, but sounded downright anemic on videos played through the Amazon video player, and via the Hulu Plus app (other apps had fairly low volume, too).
For me, those trade-offs are simply not worthwhile, even to save a few bucks. What's the point of being able to procure video easily, if my videos are going to be soft, have artifacts, and not sound great?
Modest Specs and Performance
Tablets are more about usability than specs. That said, the Kindle Fire's skimpy specs clearly reflect the compromises that Amazon made to achieve its $200 price.
Amazon employs a Texas Instruments OMAP 4 dual-core processor; in use, however, the Fire didn't feel like a dual-core tablet. It lagged on transitions, even simple ones such as turning book pages or rotating orientation; it also produced jerky animations and repeatedly generated pixelated video playback. It's unclear whether all of the blame lies solely with the 512MB of RAM–half what's standard on 7-inch tablets from companies like Acer and Samsung. Software optimization could also be part of the issue here; after all, Amazon's custom build of the Android 2.3 operating system could have some kinks, too. But in my trials, I became all too familiar with the spinning-ball wait indicator that appeared as something loaded, and I felt as if I paid with my time what I saved in money on the Fire's modest price.
Some missing elements weren't obvious immediately, though. For example, the Kindle Fire has neither a front-facing camera nor a rear-facing one, and it lacks GPS. None of these felt like onerous omissions on their own, but they are standard amenities in the pricier top-tier competitive set, and their absence here means you're making a choice not to use your tablet for conducting video chat, scanning an image, or navigating your way around town–all of which are practical uses that you may miss having in the long run. At $200, you're getting what you pay for.
If you plan to pack this tablet with apps, music, books, and movies, you'll be disappointed: The Fire has only 8GB of storage space, and only 6.54GB is user-accessible. I found that it took little to blast through a couple of gigabytes of space, and even Amazon admits in its specs that the on-board storage can hold only ten movies at a time, for example. And unlike Barnes & Noble's $200 Nook Color and $250 Nook Tablet, the Kindle Fire has no MicroSD card slot, so you can't add more space as needed.
We ran some of the PCWorld Labs' tablet tests on the Fire, and found decidedly mixed results. It was the second-slowest tablet (of more than two dozen we've tested) at transferring files from a PC. On the SunSpider JavaScript test, the Fire was slower than the HTC Flyer (Wi-Fi) and every Honeycomb tablet we've tested, but faster than last year's original 7-inch Samsung Galaxy Tab and a slew of tablets with single-core, sub-1GHz processors and Android 2.2 operating systems.
Amazon bills the battery life as lasting for up to 8 hours of continuous reading or 7.5 hours of video playback, but those estimates are based on Wi-Fi being turned off. With Wi-Fi on, I found that my casual use of the tablet drained the battery surprisingly quickly. In about 3 hours, 45 minutes, the battery dropped from 56 percent to zilch; I had brightness set to the default of three-quarters maximum, and I used the tablet just for browsing the Web a bit, reading email, downloading several apps, and streaming a handful of tunes and a few minutes of video. Stay tuned for our full battery-life tests, which remain in progress.
The 7-inch IPS LCD screen carries a 1024-by-600-pixel resolution, and bears an antireflective coating. The Fire also has a fairly obvious air gap between the screen's glass surface and the LCD panel itself. The Kindle Fire's screen was noticeably more reflective than the display of the Barnes & Noble Nook Color when I compared the two side by side.
The Kindle Fire: Bottom Line
The Amazon Kindle Fire makes trade-offs to achieve a $200 price. It's easy to dismiss some of the compromises and weaknesses of the Kindle Fire as the sacrifices necessary to achieve a price point, but the reality is that the Fire may not meet your expectations if you're looking for an Apple iPad 2-like tablet.
For those people who go in knowing what they're getting, and who want an inexpensive tablet that capably–though not spectacularly–handles their Amazon books, music, and video, the Kindle Fire's limitations may be acceptable. However, the Fire falls far short of providing a full and satisfying tablet experience.