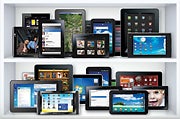 Planning to give a laptop computer as a holiday gift? Think again. A new PriceGrabber survey shows that consumers overwhelmingly prefer tablets to laptops, the latter being too heavy, bulky, and altogether uncool.
So just how popular are tablets? Nearly 4 of 5 people surveyed–79 percent of respondents, to be exact–told PriceGrabber they'd rather receive a tablet than a laptop as a holiday gift.
The survey was conducted from October 18 to 26, and includes responses from 3,574 U.S. online consumers.
An iPad, Please
The Apple iPad is consumers' tablet of choice, and by an overwhelming margin. A staggering 83 percent of respondents said they'd prefer an iPad or iPad 2. Amazon's new Kindle Fire was a distant second at 5 percent, followed by the Samsung Galaxy Tab (4 percent) and HP TouchPad (2 percent).
But would the Kindle Fire's desirability quotient improve if the survey were conducted today?
Amazon announced the Fire in late Sept. and began shipping its 7-inch color slate just this week. The hoopla surrounding the $200 Fire has significantly boosted consumer interest in the device, which is already a bestseller at Amazon.com.
Barnes & Noble's new $250 Nook Tablet would probably fare better in a November survey too.

PriceGrabber also asked about e-readers. Again, the iPad ruled, with 62 percent of respondents preferring it to other e-readers. The Kindle was second with 27 percent, while the Nook was a distant third with 7 percent.
Why Not a Laptop?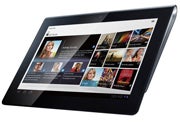 When asked why they prefer a tablet over a laptop, 85 percent of consumers said tablets are easier to "carry and transport." Here are the tablet's other advantages, in order of popularity, according to the survey respondents:
Light weight (73 percent)
Convenient (67 percent)
Touchscreen (67 percent)
Smaller size (60 percent)
Reading on the go (56 percent)
Speed (49 percent)
Multimedia features similar to those of a smartphone (42 percent)
Exceptional battery life (41 percent)
So what would you rather receive as a gift: Tablet or laptop?
Contact Jeff Bertolucci at Today@PCWorld, Twitter (@jbertolucci) or jbertolucci.blogspot.com.