At a Glance
Expert's Rating
Pros
Gorgeous
Great performance
Cons
Screen is off-color
Unsatisfactory touchpad
Our Verdict
The Zenbook UX31E is almost perfect, except for its mediocre touchpad.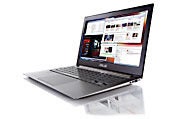 Asus's supersleek Ultrabook, the Zenbook UX31E, is finally here–and it's gorgeous. With its brushed-aluminum design, it more closely resembles the MacBook Air than other Ultrabooks do, and it really does elicit a Zen-like feeling. Throw in an i5 processor, Bluetooth 4.0, and a USB 3.0 port, and the Zenbook UX31E is almost–but not quite–perfect.
Our review model, priced at $1099 (as of November 15, 2011), sports an Intel Core i5-2557M processor, 4GB of RAM, and a 128GB solid-state drive. It also features a built-in 0.3-megapixel webcam, a microphone, and 802.11b/g/n Wi-Fi.
Performance-wise, the Zenbook UX31E is surprisingly robust considering its sleek form. In our WorldBench 6 benchmark suite, the Zenbook earned a score of 125–better than several of our top-rated ultraportable laptops, including the Samsung Series 9 (which had a mark of 103), the Asus U36S (114), and the Lenovo ThinkPad X1 (124). This result also makes it slightly faster than the other Ultrabooks we've tested so far.
The Zenbook has no discrete graphics card, and therefore relies on Intel's integrated graphics (as most ultraportables do). Graphics performance is slightly below average for the category: In our Far Cry 2 graphics tests, the Zenbook managed a frame rate of 31.4 frames per second (at low quality settings and 800-by-600-pixel resolution). That frame rate is below average for the past few ultraportables we've tested, but not too far below. Still, it means that the Zenbook won't satisfy gamers.
The Zenbook UX31E is a breathtaking computer, different in appearance from Apple's MacBook Air series in a few key respects. The ultrathin chassis features a slate-gray aluminum cover with a circular brushed design and sharp corners. The size, the tapered design, and the metallic look make the Zenbook resemble the MacBook Air to such an extent that you'd be forgiven for mistaking them at a glance. The interior ditches the concentric-circles pattern in favor of bright silvery brushed aluminum on the deck, a dark matte-gray bezel around the screen, and a silver glass-coated touchpad. The UX31E sports a Chiclet-style keyboard in matte silver.
That keyboard, which is not backlit, is comfortable and easy to type on. The keys are large with sharp corners, and widely spaced. You'll find no extra buttons around the keyboard, but the Function keys can serve as extra buttons–for example, you can put the computer to sleep, turn the Wi-Fi/Bluetooth on or off, and adjust volume and screen brightness using the Fn keys. The power button looks like a regular key, and is located in the top-right corner of the keyboard.
The glass-coated touchpad looks and feels a lot like Apple's trackpads. The Zenbook's has a small black line in the middle, at the bottom, to denote the left- and right-click zones. Although the touchpad is smooth and supports multitouch gestures such as two-finger scrolling, it needs some work. When I first tested the touchpad, it had a tendency to overshoot objects on the screen, and it produced a significant delay in the tap-to-click function. A driver update to coincide with the Zenbook's launch fixes these issues…to a degree. The mouse no longer overshoots, but the cursor is slow and takes a long time to travel across the screen (even after you adjust the cursor speed in the Mouse Settings panel). Also, even though the tap-to-click delay has been shortened, the slight lag is still obvious and annoying. It doesn't crop up when you depress the designated left- or right-mouse-click areas.
The Zenbook has a nice selection of ports for an ultra-ultraportable. It offers two USB ports–one of them USB 3.0–as well as a mini-VGA port, a Micro HDMI port, and a headphone jack. You'll also find an SD Card reader, which is a big plus on such a sliver of a machine.
The UX31E is an impressively slim 0.8 inch thick at its thickest point, and merely 0.12 inch thick at the very front. That's just slightly thicker than the current 13-inch MacBook Air, which is 0.68 inch at its thickest (0.12 inch at its thinnest). The Zenbook UX31E weighs 3.1 pounds, only 0.14 pound heavier than the 13-inch MacBook Air. With the power brick, the Zenbook weighs 3.8 pounds, which is just enough to make your shoulder hurt after a while. In PCWorld's tests, however, the Zenbook managed to chug along on its battery for a good 6.5 hours, so you may not need to haul around the half-pound power brick.
The Zenbook's glossy, 13.3-inch screen has a native resolution of 1600 by 900 pixels, and is very bright and crisp. That's a bit higher resolution than on some of the other Ultrabooks we've seen, which feature 1366-by-768-pixel displays. However, color representation isn't fantastic: The entire screen has a slightly bluish tint, especially at higher brightness levels, and skin tones look a little burnt.
Multimedia playback on the Zenbook is quite good. In my tests, streaming HD video played without any hiccups, though at full screen it had some minor artifacting and loss of detail. Audio playback is good for an ultraportable machine: The speakers, which are located above the keyboard in the hinge of the computer, are loud and surprisingly full-sounding. A slight echo is audible at the highest volume.
The Zenbook is nicely free of bloatware, though you do get an Asus Utility suite, which includes FaceLogOn software and a 100-page electronic manual.
The Asus Zenbook UX31E is impressive: It's an excellent performer, it's attractive and light, and it plays back multimedia well. Unfortunately, its screen is off-color and its touchpad needs some more work (or perhaps another driver update).