Nokia plans to launch an iPad competitor based on Microsoft's Windows 8 operating system next year, the company's French division manager let slip in an interview with newspaper Les Echos. The tablet would launch next summer and would be the first such product from the Finnish phone maker.
"In June 2012, we will have a tablet that runs on Windows 8," Paul Amsellem told the Parisian daily. The potential launch date of the tablet also gives an indication to when Windows 8 would actually ship to consumers, as Microsoft is yet to give details on the launch schedule for its upcoming OS, besides a fall 2012 teaser.
Amsellem also confirmed Nokia is preparing another high-end Windows Phone 7 device, set to follow-up the Nokia Lumia 800, the first phone born out of the company's partnership with Microsoft. The Lumia 800 launches today in Europe and is set to arrive in the US in early 2012. Using a car analogy, Amsellem said the Lumia 800 was a BMW Series 5, and that Nokia has in the pipeline a Series 7 equivalent, with better specs.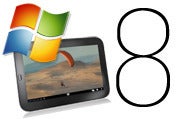 To get an idea of what the higher-end 'Series 7' Nokia phone would bring, you can look at some of the shortcomings of the Lumia 800: the phone does not have a front camera, no 4G, 512MB of RAM and just a single-core processor. The flagship model has been tipped as the Nokia Ace or 900, as Nokia dropped some hints and displayed what is believed to be a rendering of it at the London Design Museum.
Samsung is also planning to release a Windows 8 tablet in the second half of 2012, the company announced last week. Samsung's Windows 8 tablet will be a modified version of the company's Series 7 slate, which runs Windows 7. An earlier version of a Samsung Windows 8 tablet, given out to press and developers at the BUILD conference in September, had a 11.6-inch 1366-by-768 pixel display, an Intel second-generation Core i5 processor and 4 GB of RAM. The first to get their hands on the early Windows 8 tablet remarked it was bulkier than the iPad and most Android tablets, and pointed out the noisy fan inside.
Follow Daniel Ionescu and Today @ PCWorld on Twitter