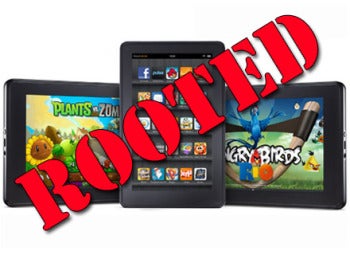 Just two days after Amazon's Kindle Fire started shipping hackers claim the Android-based device has been rooted clearing the way for developers to create alternative Fire-specific firmware, called a ROM. An Android Forums user said he discovered rooting was possible late Tuesday by using the Android software development kit provided by Google and a one-click rooting tool called SuperOneClick 2.2. Rooting is the Android equivalent of jailbreaking for an iOS device.
Before you can root your Fire, according to the post on Android Forums, you have to use Google's Android SDK and establish ADB access to your device, which stands for Android Debug Bridge. ADB is a developer tool that lets you communicate with a device via your PC for installing apps, copying files and running shell commands. Then you have to modify a few files in the SDK before running SuperOneClick to root your tablet.
The biggest advantage to rooting a device is the ability to add a custom ROM that is compatible with your device. This is a popular pastime among some Android smartphone users looking to replace custom overlays from manufacturers such as Samsung's TouchWiz or Motorola's Motoblur with a different interface. ROMs can also be used to include apps and functionality that would otherwise be unavailable to your device.
Although if you're just looking to install non-Amazon approved apps, a process called sideloading, you can already do this with the Fire by checking a box in your device settings that allows you to install apps from unknown sources. This can let you do things such as install Barnes & Noble's Nook app on your Fire or, perhaps even install handy Android tools such as the Swype keyboard.
In other Fire news, Amazon recently released the source code for its new tablet as part of the company's obligation for using free and open source software in its devices. If you're interested, you can download the Fire's source code as well the source code for other Amazon devices from the company's source code page.
Connect with Ian Paul (@ianpaul ) and Today@PCWorld on Twitter for the latest tech news and analysis.