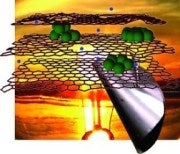 Although iPhone 4S battery drain was a real problem, it also brought up the need for a smartphone battery breakthrough–something so significant that you'll never have to worry about getting through the day on a single charge, even if the battery's not behaving properly.
The good news is that a true breakthrough is on the way, and promises week-long battery life and 15-minute recharge times. The bad news is that this technology is still three to five years away from the market.
Researchers at Northwestern University worked with the same lithium-ion batteries found in today's smartphones. But by layering clusters of silicon in between the graphene sheets that make up one side of the battery–known as the anode–the researchers were able to pack in a lot more lithium.
Scientists have already tried using silicon as a replacement for carbon-based graphene sheets but, in previous approaches, it expanded and contracted too dramatically, causing fragmentation that reduced capacity. Apparently the sandwiching of silicon between graphene solves that problem.
The researchers also poked tiny holes in the graphene, providing a shortcut for the lithium to travel through and be stored by a reaction with the silicon. Essentially, the unique use of silicon is solving two problems at once.
This breakthrough sounds particularly interesting to me because it's still based on lithium ion batteries. When I last ranted about smartphone battery life when the iPhone 4S faced problems, I pointed to new approaches like kinetic charging, photovoltaic cells or lithium-sulfur batteries. But Northwestern researchers aren't working on entirely new methods. They're just drastically improving the type of batteries that smartphones use already. Let's hope it gets to the real world in time for the iPhone 6S.
Follow Jared on Facebook, Twitter or Google+ for even more tech news and commentary.