Major updates have been coming fast and furious in the world of Linux distributions this fall, and this week is no exception. Now joining the ranks of Ubuntu 11.10, Fedora 16 and many others is openSUSE 12.1, which on Wednesday made its debut.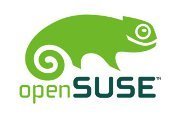 OpenSUSE is currently the fourth most popular Linux distribution on DistroWatch, behind just Mint, Ubuntu and Fedora. I last wrote about OpenSUSE back in March, shortly after its last major version–11.4–arrived on the scene. As I noted then, the free and open source operating system offers a lot of compelling features to explain its popularity, including stability, power, and ease of use.
With this new release, however, openSUSE brings even more to the table–not to mention a new numbering scheme, which is why it's now 12.1. Ready for a look? Here's a small sampling of what openSUSE 12.1 has to offer.
1. Four Desktop Choices
Though it dropped its efforts to incorporate Ubuntu's Unity desktop environment back in February, the openSUSE project did include the equally controversial GNOME 3 in this release.
Now adding to the GNOME 3 preview that was included in openSUSE 11.4 are a raft of new improvements, including better handling of smaller screens and multi-screen setups, better notifications, and a centralized online accounts configuration, the project team says.
Those who remain unconvinced about GNOME 3, however, have another alternative in KDE 4.7, much the way users of Fedora 16 do. OpenSUSE 12.1 is actually the first major Linux distribution to ship both GNOME and KDE with color management, the project says.
The KDE community's new tablet project, meanwhile–dubbed Plasma Active–is not yet an integral part of the openSUSE, but with version 12.1 it is available to tablet users. The project aims to integrate that component in the distribution's next release.
Last but not least, openSUSE 12.1 users can also choose to use the lightweight Xfce or LXDE desktops, if they prefer. The screenshot below depicts openSUSE 12.1's GNOME desktop running the Totem movie player.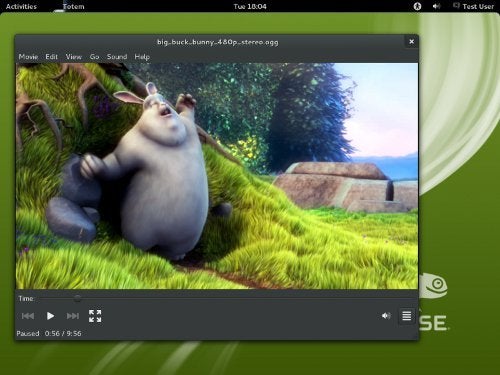 2. Power-Packed Software
As always, openSUSE 12.1 comes with a powerful array of bundled software, including Firefox 7, Thunderbird 7, LibreOffice 3.4.3, Scribus 1.4, Banshee 2.2, GIMP, and much more. Brand-new in this release is the introduction of Chromium 17 to the standard repositories.
3. Underlying Technologies
OpenSUSE's underlying technologies have been updated as well, of course, and a few notable firsts for the distribution include the new Snapper tool for file versioning, the systemd init system–resulting in a faster boot process–and Google's Go programming language.
Meanwhile, openSUSE 12.1 is built with GCC 4.6.2 and link-time optimization for a boost to overall performance, the project team says.
4. Cloud Innovations
Based on Linux kernel 3.1, openSUSE 12.1 is now ready to run directly on the Amazon EC2 cloud and can support mixed IT environments including public and private clouds. Tools are included for managing virtualization technologies such as Xen 4.1, KVM, and VirtualBox, and openSUSE is the first Linux distribution to ship OwnCloud integrated into the desktop, the project says.
The openSUSE Virtualization and Cloud repository, meanwhile, offers the latest versions of Eucalyptus, OpenNebula, and OpenStack for openSUSE 12.1.
These and many more new improvements are described in detail on the openSUSE wiki. Ready to take version 12.1 for a test drive? The software is available as a free download from the openSUSE site.