The Nook Tablet's biggest advantage over its rival Kindle Fire is that is has double the built-in storage capacity at 16GB. But read the fine print: only 1GB will be available for content that doesn't come from Barnes & Noble.
PCWorld's Nook Tablet reviewer, Melissa J. Perenson, confirmed the storage gotcha with Barnes & Noble. She notes that it was misleading of Barnes & Noble to promote and represent the Nook Tablet as having 16GB of storage when in fact the company shipped the tablet a rounding error shy of a full 1GB that consumers can actually access.
According to B&N, of the 16GB on the Nook Tablet, 3GB are devoted to the operating system, and 12GB are assigned to handle B&N content–including books, magazines, apps and their associated data, and the media you'll be able to rent or download via upcoming digital music and movies services (these partnerships have yet to be announced, but are coming early next year). Just 1GB of space on the device has been alotted to store your own media and document files. That's in contrast to Nook Color, the $200 last year's first-gen e-reader/tablet from B&N; Nook Color has 5GB of user-accessible storage on the device itself. B&N says it expects consumers to use the microSD card slot, which can be expanded with a card up to 32GB, for their own content.
Engadget was first to confirm the storage limitation after it was reported on Twitter by PC Mag's Sasha Segan.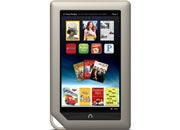 Fortunately, the Nook Tablet includes a microSD card slot–another advantage over the Kindle Fire–for up to 32GB of unrestricted, expandable storage. But, Perenson's early impressions of the built-in card reader is that it's extremely slow at transferring data. Still, it's another cost to consider, as 16GB microSD cards cost about $20 at Best Buy, and the Nook Tablet is already $50 pricier than the Kindle Fire at $250.
Although the Kindle Fire has only 8GB of storage on board. Of that, 6.54GB are available for owners to use as they see fit; Amazon imposes no restrictions on what the user can do with the remaining space. Also, Kindle Fire users can store an unlimited amount of Amazon content online, freeing up space as long as a Wi-Fi connection is available. (Barnes & Noble also stores books and app purchases in the cloud, but it's unclear how Nook Tablet's future, unannounced media rental and download services will behave.)
Reviewer Melissa J. Perenson's early impressions of Nook Tablet is that it's a solid e-reader, but lacks common behaviors of a tabletl; PCWorld's full review will run shortly. Perenson was disappointed with the Kindle Fire as a tablet, too.
(PCWorld's Melissa J. Perenson contributed to this report)
Follow Jared on Facebook, Twitter or Google+ for even more tech news and commentary.