At a Glance
Expert's Rating
Pros
Comprehensive
Easy to use
Image and file backup
Our Verdict
Drive imaging software doesn't get any better than this affordable program, which also performs file-level backup.
For $29, it's hard to beat O&O DiskImage 6 Professional Edition's imaging and file backup. It's easy to use, and its concise interface includes advanced features such as incremental backup, scheduling, CD/DVD burning, and bare metal restore.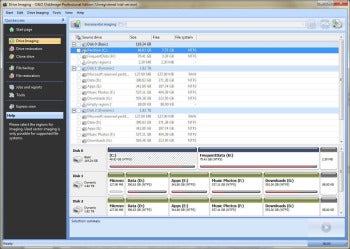 Version 6 of DiskImage Professional offers several major improvements over version 5, which PCWorld reviewed last year. The most notable is backing up individual files and folders in addition to the program's core functionality of imaging drive and partitions. Also, O&O has added a WinPE 3.1 boot disc to augment the existing Linux boot disc. Microsoft recently made the WinPE technology available for free, so it will soon be the rare program that lacks it. Formerly, only pricier programs such as Norton Ghost had PE boot discs.
O&O DiskImage has improved bare metal restore, also known as Machine Independent Restore–the ability to add required drivers when restoring a backup. With a WinPE 3.1 boot disc this is far easier, as you may readily load hardware drivers after booting, but before a restore operation. If you've ever installed XP or a later version of Windows, you'll know this as the F6 option.
The other addition is the ability to mount .ISO images as virtual drives. The program would already mount its own image backup files thusly. DiskImage 6 is one of the few programs that will burn existing images to optical disc for you. Many will write directly, but not after you've created an image. About the only missing feature is a hidden restore partition à la Acronis True Image's Secure Zone. The program also seemed a bit slow to enumerate drives in my testing–a minor issue to be sure.
DiskImage 6 Professional's main interface is easy enough to use, but there's also a compact window that invokes wizards to walk you step-by-step through creating and restoring images.
With the new features, O&O Disk Image Professional Edition is as good as anything out there, and cheaper than popular competitors Acronis True Image and Norton Ghost.
Note: This link takes you to the vendor's site, where you can download the latest version of the software appropriate to your system.
–Jon L. Jacobi