Google Music is no longer in beta and is now open to the public–and you'll still be able to upload and stream up to 20,000 songs for free. Google revealed an updated version of its music cloud service, app, Web player, and store, Google Music, this afternoon at Mr. Brainwash's studio in Hollywood.
The new version of the Web Music player and Android Music app are available now in the Android Market. The store launches today and will roll out to Android devices over the next few days. Both the new version of the Web Music player and the Android Music app will be available today as well.
When Google launched Google Music Beta, users could upload up to 20,000 songs to the cloud and stream for free. Here's the good news: Google Music is still free and purchased content doesn't count against that 20,000 limit. The other good news for audiophiles? All songs will be 320Kbps high quality MP3s.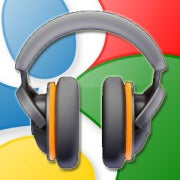 The Android Market now has a section for music. The homepage shows you staff picks, promoted albums, and a featured playlist curated by Google's "music geeks." It also provides personalized recommendations based on your own collection. It uses the same algorithm the Instant Mix feature uses to build playlists in Google Music. When you buy a song or an album, it will show up instantly in your collection in the Music app. There's a free song available every day, which is featured on the Music homepage. Google is also offering hundreds of other songs for free download to kick off Google Music's launch.
Artists can have their own "hub" pages where they can host exclusive content. Google says it will continue to add content. Artists such as the Rolling Stones, Coldplay, and Pearl Jam, as well as others, will offer new albums, live concerts, and interviews exclusively through Google Music. These exclusive tracks will also be free.
And remember that recommendation feature? You'll be able to see similar artists on artist hub pages so you can keep adding more music. Google is opening up this feature to all artists, not just the superstars. Google hopes Google Music can be a tool for up-and-coming indie artists to get exposure.
Naturally, there's some Google Plus integration as well. After purchasing a song or album, you'll have the option to share it on Google Plus. Your friends will be able to play that entire song–or album–in its entirety for free. That's pretty sweet.
Google has secured deals with three out of the Big Four record labels: Sony Music Entertainmant, Vivendi SA's Universal Music Group, and EMI Music. Warner Music Group is the odd major label out. Many independent record labels have also partnered with Google, including Merge, cdbaby, INgrooves, and many more.
Google also announced a partnership with T-Mobile. If you remember way back in 2008, T-Mobile was the first carrier to launch an Android phone in the U.S., the T-Mobile G1. T-Mobile will have exclusive content to its customers through Google Music from Drake, Busta Rhymes, Maroon 5 and more artists to be announced.
If you've seen the Banksy documentary Exit Through The Gift Shop, Mr. Brainwash's Studio might sound familiar to you. Thierry Guetta aka Mr. Brainwash's mural-covered warehouse with a Storm Troopers-meets-the-Oscars theme served as a surreal backdrop to the event. Google is definitely trying to portray a hip rock n' roll image here, but will consumers buy it? Time will tell.
The Android Market music page is available now. Check it out and tell us what you think in the comments.
In Video: Google's Next Targets: iTunes and Amazon Music