You don't need to be a Steve Jobs to see that as laptops become ever thinner and tablets become more and more popular, convergence of the products is inevitable. As that day approaches, Apple is preparing to be ready for it.
The company received approval from the U.S. Patent Office this week for a patent for a MacBook with a cellular antenna and a rotating display. Such a MacBook could have the super thin qualities of the MacBook Air and the cellular connectivity and touchscreen versatility of the iPad.
It could also steel Apple against the onslaught of Ultrabooks that PC makers are readying to unleash on the world. "This officially announces to the Wintel camp that Apple now has the ability to match or beat the Ultrabook design that is to come to market in 2013 with the [Intel] Haswell processor," declared Jack Purcher, of Patently Apple.
Intel announced the Ultrabook category of PC laptops in May. The line is squarely aimed at the MacBook Air. The first wave of Ultrabooks, based on existing Intel processors, has already begun to hit the market. The units are supposed to be priced under $1000 and be super thin–0.78 inches–or in the case of the HP Folio announced today, even less–0.70 inches.
Next year, the platform is expected to be advanced further with the introduction of units based on Intel's Ivy Bridge processor. A third wave of Ultrabooks is planned for 2013. They would be based on the Haswell processor and consume half the power of today's laptops. Some of them also will sport Windows 8 with its touchscreen-enabled Metro interface.
Patent Details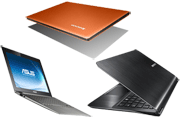 According to Purcher, the new Apple patent calls for a hinge structure that would allow a MacBook to "rotate relative to the base of the laptop computer." He explained that structure is very much like the second or third generation Ultrabook design spec that allows it to transform into a tablet for simple reading, surfing and/or scribbling with a smart pen.
As for the antenna patent, Purcher said that Apple has been filing patents in that area for almost two years. "It's a forming trend that is certainly illustrating that Apple's industrial design team, lead by Jony Ive, is trying different approaches in creating the perfect Telephonic MacBook," he wrote.
Citing the recent biography of Apple's co-founder Steve Jobs, Purcher argues that the company is in the same situation it was in when it decided to introduce the iPhone. At that time, Jobs knew the iPhone would cannibalize iPod sales.
"The same is true for the future Ultrabook that will sport the Haswell processor and more importantly, support a rotatable display to allow a notebook to transform into a tablet for leisurely reading etc.," he wrote. "Likewise, Apple has to offer a notebook-tablet alternative product or risk having their iPad sales erode at an accelerated pace. With a combo unit, Apple will be able to justify dropping iPad sales if their MacBook-Tablet is the direct beneficiary."
Follow freelance technology writer John P. Mello Jr. and Today@PCWorld on Twitter.
Note: When you purchase something after clicking links in our articles, we may earn a small commission. Read our affiliate link policy for more details.