If you have an Android phone, you're probably dissatisfied with its battery life. After all, many phones, especially 4G models, can't make it through the day without needing to sip from a power outlet.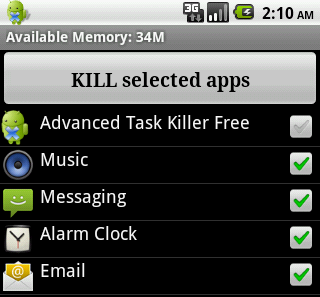 Some frustrated Android users turn to task managers such as Advanced Task Killer to preserve the handset's juice. The theory makes sense: Apps for Facebook, Google Maps, Pandora, and Twitter, for instance, love to start up in the background. If you automatically and regularly stop such apps, the thinking goes, you'll end up with longer battery life.
But for everyone who advocates a task killer, there's another Android user who claims that such tools actually decrease battery life. Their argument: Apps that start up in the background will just restart themselves after an app killer stops them. And all that activity–the app killer stopping processes, and the apps starting themselves up again–will knock bars off your battery meter.
In the PCWorld Labs, we hate unanswered questions. So we tested an app killer on a variety of phones. Our results indicate that neither side is entirely right. Overall, using an app killer produced an increase in battery life, but one so small that most people wouldn't notice it. And on a couple of phones, battery life remained unchanged, or decreased, with an app killer on the job.
The Test
In order to test whether task killers would help with battery-life issues, we downloaded Advanced Task Killer on five different 4G Android smartphones. Advanced Task Killer is arguably the most popular task killer in the Android Market, and the one that is most frequently recommended. (Note, though, that the developers of Advanced Task Killer make no claim that their app will improve your battery life.)
The phones we chose for the testing were the HTC Evo 3D, the HTC Sensation 4G, the HTC ThunderBolt, the Motorola Droid Bionic, and the AT&T Samsung Galaxy S II. We reset each phone to factory settings, with Wi-Fi disabled and 4G on. We set the phones to play a high-def movie on a loop, with the screen at maximum brightness, until the phone battery died.
Advanced Task Killer has a variety of kill modes (Safe, Aggressive, and Crazy). We left it on the Safe setting and had it stop apps every half hour; this setting kills apps that aren't open but still consume memory. The developer recommends the Safe setting, since the other two settings can cause some apps to become unstable.
The Results
Does Advanced Task Killer Save Phone Battery Life?
PHONE
Battery life
Without Task Killer
With Task Killer
Difference
HTC Evo 3D
6:25
6:40
4.2%
HTC Sensation 4G
6:38
6:54
4.0%
HTC ThunderBolt
5:34
5:41
2.1%
Motorola Droid Bionic
4:50
4:50
0.0%
Samsung Galaxy S II
7:22
7:20
-0.5%
As the chart shows, three out of the five phones–the HTC Evo 3D, the HTC Sensation 4G, and the HTC ThunderBolt—did show an improvement in battery life with Advanced Task Killer running. Don't expect to save hours, however: With the task killer enabled, the HTC Evo 3D showed the biggest boost, but that was just 4.2 percent, an addition of only 15 minutes to the overall battery life. (Why did Advanced Task Killer improve the battery life primarily on HTC phones? That may be because of all the processes that the HTC Sense user interface has running at any one time.)
While the Droid Bionic saw no benefit, the AT&T Galaxy S II did worse with the task killer running–though contrary to some of the stern warnings you'll see about these apps on the Web, the decrease was almost insignificant. The Galaxy S II merely dropped from 7 hours, 22 minutes down to 7 hours, 20 minutes.
With an average improvement of 1.9 percent, the impact of a task killer on phone battery life in our study was virtually unnoticeable. Task killers may be great for freeing up extra phone RAM, but if you are looking for a way to get more juice out of your handset, you're better off shelling out the extra dough for an extended battery.