At a Glance
Expert's Rating
Pros
Reasonable, flat-rate monthly price
Beautiful interface
Cons
Not enough "getting started" guidance
Our Verdict
Goodsie offers a streamlined, beautiful way for small retailers to offer their goods online.
Opening an online store can sometimes seem like a daunting effort. If you've never managed an e-commerce venture before, the wealth of options offered by many vendors may seem overwhelming at first. Goodsie ($15 per month) attempts to keep things simple and make it easy for small and first-time retailers to start offering their wares online.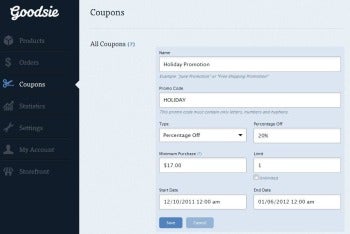 Goodsie's storefront area looks and feels quite similar to vendor HiiDef's other online tool, Flavors.me, used for creating personal websites. Much like Flavors.me, Goodsie places a strong emphasis on visuals, along with polished typography. The interface used for configuring Goodsie is similar to the one used for Flavors.me, comprising of a small floating pane with a slew of color, layout, and content options. But all of these options merely control the look and feel of the store; there is a separate interface used for adding products, setting prices, specifying delivery options, and all of the other functionality you might expect from an online store application.
While it makes sense for Goodsie to offer two different interfaces for the storefront and the back office, I wasn't sure at first how to get to the back-office area, and Goodsie short getting-started guide did not mention it. I then just tried clicking the small cogwheel icon at the top-right corner of the window, and found myself in the admin interface.
Once within the admin interface, things are simple and sensibly laid out. A vertical navigation menu displays seven simple configuration categories, such as Products, Orders, and Coupons. There is also an included Statistics panel, showing information such as visitors, unique visitors, average time on site, and more. For more powerful analytics, you can also plug Goodsie into Google Analytics or Clicky.
While Goodsie lacks rival Shopify's vibrant plug-in and theme ecosystem, it does offer the essentials. For example, you can easily configure Goodsie, PayPal or Google Checkout as payment gateways, but none of the many other more esoteric gateways Shopify offers. If you are selling files (such as software applications, e-books, or music albums), you can use an included plug-in called Fetch. Fetch is an "automated digital delivery system," making the sale of digital goods a seamless operation by hosting your files and contacting buyers with direct download links as soon as they pay. It is a third-party service, and as such, charges separately, but the rates are reasonable ($10 per month will buy you 1GB of storage space).
Goodsie is clearly aimed at small-time merchants; this is reflected by the modest price tag of $15 per month, as well as by the fact there seems to be no way to add products in bulk. The only way to add products to the system is manually, one SKU at a time, using the administration interface.
Goodsie has managed to create a simple, polished system that feels friendly and welcoming, even for first-time sellers. The sensible pricing means setting up a store isn't only quick, but also easy on your wallet.
Note: This link takes you to the vendor's site, where you must sign up to use this Web-based software.
–Erez Zukerman