At a Glance
Expert's Rating
Pros
Sturdy, elegant design
Windows Phone Mango is refreshing
Cons
Flimsy charging-port cover
No front-facing camera or 1080p HD recording
Our Verdict
Nokia's first Windows Phone has a great design and performs solidly, but the Lumia 800 lacks a few perks its competitors flaunt.
The Nokia Lumia 800 ($580 unlocked; price as of November 16, 2011) is the first handset from the Finnish phone maker to run Microsoft's Windows Phone 7 Mango OS, and it should make its way to the United States in early 2012. Nokia has put some of its finest craftsmanship into the Lumia 800, creating a solid and sleek smartphone. Combined with the latest version of Windows Phone 7, the Lumia 800 is a great choice for anyone in the market for a Windows Phone–but it isn't yet in the same league as the iPhone 4S and Android heavyweights.
Solid, Attractive Hardware With Few Letdowns
The Nokia Lumia 800 has a matte polycarbonate unibody chassis that is a bit on the chunky side, but the slightly curved shape makes it comfortable to hold. Measuring 4.58 by 2.40 by 0.47 inches, the Lumia 800 fits easily in most pockets or bags, and at 5 ounces it won't weigh you down. The left side of the phone has no buttons; on the right side are a volume rocker, a lock key, and a two-step camera shutter. The buttons are easy to press, and since enough space separates the volume rocker and the lock key, they don't get confusing when you reach for them without looking.
A loud and clear speaker is at the bottom of the Lumia 800. At the top you'll find a headphone jack, a Micro-USB port for charging and syncing, and the micro-SIM card slot. The speaker is slightly muffled if you stand the phone vertically (and therefore cover the speaker), but the quality is good when the phone is merely sitting on a flat surface.
The pop-out plastic panel covering the USB port at the top of the phone can be quite problematic, though. The flimsy panel needs to be open vertically when you're charging the phone, and you could easily break it by pushing it back too much.
Otherwise, you'll find no visible screws or moving parts in the monoblock design of the phone, which is available in three colors: black, cyan, and magenta.
The Nokia Lumia 800 has a curved, 3.7-inch Gorilla Glass display that houses the three touch (with haptic feedback) Windows Phone keys (back, home, search) at the bottom. The AMOLED display resolution is 800 by 480 pixels, which is standard for Windows Phone 7 handsets, yet below the pixel density of competitors such as the iPhone 4S or the Motorola Droid Razr. Nevertheless, text rendered on the responsive Lumia 800 display is sharp, and images are bright and richly saturated.
The Lumia 800 comes with 16GB of built-in flash storage (512MB of RAM), but it has no SD Card slot for expansion, which could be a letdown for anyone who needs ample space for a media library. You do, however, get 25GB of free storage on Microsoft's SkyDrive, so you can offload some of your photos and other media there. The phone also lacks a user-removable battery, but an FM radio is on board.
Windows Phone 7 Mango, Sprinkled With a Bit of Nokia Fairy Dust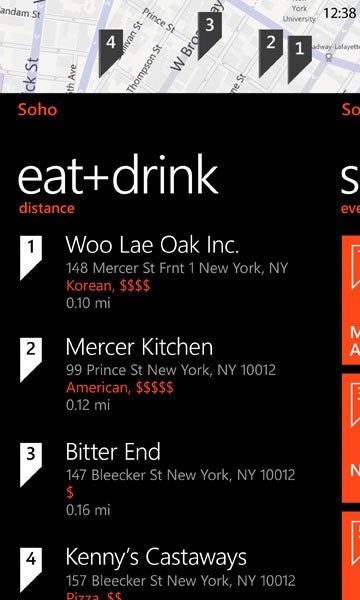 PCWorld has covered Windows Phone 7.5 Mango extensively; for more, be sure to read our general overview and our look at the new features in this version of the OS. Among the notable improvements in this version: Multitasking is now a breeze. Just hold the back button, and the phone presents chronological panels of the apps currently in use.
The People Hub now connects to Facebook, LinkedIn, Outlook, Twitter, and Windows Live, so you can have all your contacts consolidated in one place, including their latest social status updates. The Pictures Hub integrates with Facebook or SkyDrive, too, and it can automatically detect whether a person is in a photo, offering you the option to tag them (no face recognition feature here).
Other notable search features built into Mango include the Local Scout, an app that uses GPS to show you restaurants, shops, attractions, and other amenities around you. The Bing app can identify songs (similar to Shazam on iOS and Android), scan QR codes and Microsoft Tags, and let you search with voice queries. Mango even has its own voice assistant, similar to Siri (the iPhone 4S voice-enabled assistant). In my tests, it was quite hit-and-miss (I tested it with both American and British accents). The Mango voice assistant allows you to call contacts, open apps, execute local searches, or dictate messages.
Unlike Android, Windows Phone doesn't allow phone manufacturers to throw their own custom skins over the OS, but they may put a few branded tiles on the home screen or add special features. Nokia preloaded the Lumia 800 with a full set of custom ringtones (including a version of the classic Nokia tune). Also enabled is a custom 'Nokia Blue' color scheme, which is slightly darker than the standard Windows Phone shade. The best of Nokia's additions includes Nokia Drive, a GPS application that provides free point-to-point navigation (you need to download country-specific maps at first use), as well as Nokia's own music store.
Good Camera, Best Used Without Flash
On the back, the Lumia 800 rocks an 8-megapixel camera with a Carl Zeiss lens that provides sharp and colorful images in daylight. You can bring up the camera almost instantly by pressing the dedicated shutter on the side (the phone needs to be unlocked). The shutter button has two steps, so you can focus by pressing it slightly, and then take the photo by pressing all the way down. You can also focus by touching the display and holding it until the camera captures the photo.
A dual-LED flash is available for low-light conditions. It does a fair job with objects close to the camera, but otherwise images shot with the flash can be a bit grainy and yellowy. The camera can record video at 720p HD (though most competitors now can do 1080p), and videos are smooth and sharp. Unfortunately, Nokia did not include a front-facing camera for video chat on the Lumia 800. This is a strange omission since one of the updates in Mango is support for a front-facing camera. Additionally, just about every smartphone out there now has a front-facing camera, so it is odd that Nokia wouldn't include one on its flagship phone.
Performance Packs a Punch, but Not a Knockout
Whereas most high-end phones run on dual-core processors, Nokia opted for a single-core Qualcomm 1.4GHz chip with 512MB of RAM on the Lumia 800. That isn't on a par with some Android smartphones running dual-core 1.2GHz processors and 1GB of RAM; nevertheless, the Lumia 800 doesn't stumble when you put it to work. The 1.4GHz processor inside is zippy enough for handling multiple open apps, gaming via Xbox Live, or browsing the Web. Over several days of testing, the Lumia 800 did not stall or stutter under pressure.
The version of the Lumia 800 that I tested was a quad-band GSM/GPRS/EDGE phone, capable of up to 14.4-mbps downloads on HSPA. Call quality over 3 UK's network was good, and my friends noted that I sounded clear over the line; the sound from Lumia 800's speaker was good, but muffled at times (which could be due to the other party's line). The Lumia 800 does not have 4G connectivity.
I have not had a chance to test the battery life formally. In daily use however, the Lumia 800 kept a charge through a whole day of hands-on tests. Windows Phone 7 Mango also has a battery-saver option under the settings, which you can turn on when the battery runs low. The option will then automatically turn off some services (such as automatic email retrieval) or kill background apps in order to preserve battery life.
Bottom Line
The Nokia Lumia 800 is probably Nokia's best smartphone so far. It has a sturdy and sleek construction plus a vivid display, paired with refreshing software from Microsoft. If you are just moving up to a smartphone, or if you have one of Nokia's Symbian devices, the Lumia 800 is a stellar upgrade: It's fast, it's easy to use, and it looks great. Compared with the iPhone 4S or with high-end Android phones, though, the Lumia 800 has a few potential deal breakers, as it lacks a dual-core processor, 1080p video recording, and a front-facing camera for video chat.