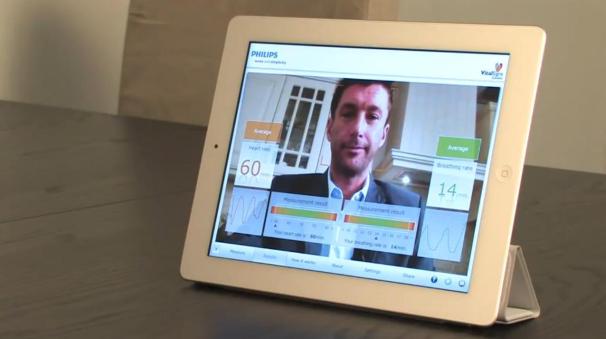 Have you ever wanted to know if you were within your target heart rate range while you exercise? Unfortunately for those of us who work out, a heart rate monitor can be expensive, costing anywhere from tens of dollars to hundreds of dollars depending on the quality of the monitor. But your wallet–or purse–doesn't any to fear any longer thanks to the Philips Vital Signs Camera App for the iPad 2.
Created by Philips, this new iPad app can measure your heart rate and your breathing rate remotely by using the iPad 2 camera. With the app, the camera is able to detect small changes in the color of your face–caused by a change in blood volume in your skin's blood vessels–which allows the app to calculate your heart rate. And even more astounding, the app also tracks the movements of your chest captured by the camera, which allows it to calculate your exact breathing rate.
To use the app, first you need to purchase it for 99 cents–far less than what you pay for the standard wrist-watch heart rate monitors–from the App Store (iTunes link). Next, to get a good reading, you need to place the iPad on a flat surface. As soon as you open the app, it goes to work; all you need to do is make sure that your face is within the marked region on the app. Next, you just stay still (but don't stop breathing) and wait for a few moments. Finally, you can share the results on Facebook, Twitter, or via email.
As a person who works out regularly, I can see how this app would pretty useful, because not only is it extremely cheap, but it is completely unobtrusive, unlike a wristwatch monitor or those annoying chest straps.
Also, unlike your usual heart rate monitor, this one also measures your breathing rate. Quite frankly, I don't know what's more amazing, the fact that the iPad 2's camera is able to take such precise and detailed measurements, or the research that went into correlating the color changes in your face with your heart rate.
We haven't given it a try yet, but if you have, let us know how well it works by leaving a comment.
And make sure to check out Philips's site to learn more about this intriguing app and how to use it.
Follow James Mulroy on Twitter and on StumbleUpon to get the latest in microbe, dinosaur, and death ray news.
Like this? You might also enjoy…
Get your GeekTech on: Twitter – Facebook – RSS | Tip us off