Yelp, a local business reviews site, filed Thursday with the U.S. Securities and Exchange Commission for an initial public offering (IPO) of up to US$100 million.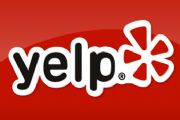 The Yelp IPO comes shortly after group buying company Groupon and Angie's List, a consumer review web site, started trading on Nasdaq this month.
The number of shares to be offered and the price range for the offering have not yet been determined, Yelp said in a statement. A portion of the shares will be issued and sold by Yelp, and a portion will be sold by certain stockholders of Yelp, it added.
Yelp in San Francisco has indicated in its registration statement to the SEC a maximum $100 million offering of Class A common stock.
The company said in the filing that its platform featured more than 22 million reviews of a variety of local businesses as of Sept. 30. It had 61 million unique visitors on a monthly average basis for the quarter ended Sept. 30, up 63 percent from the same period last year.
Yelp, which was in 2009 rumored to be a target of acquisition by Google, said it relies on traffic to its website from search engines like Google, Yahoo, and Microsoft's Bing.
Google in particular is the most significant source of traffic to Yelp's website accounting for more than half of the visits to the website from Internet searches during the nine months ended Sept. 30, Yelp said.
But things are getting difficult for the company as the search engines get into competing businesses. "We compete with Internet search engines, such as, Google, Yahoo! and Bing," Yelp said in the filing.
Google has removed links to Yelp's website from portions of its web search product, and has promoted its own competing products, including Google's local products, in its search results, Yelp said. "Similar actions in the future could have a substantial negative effect on our business and results of operations," it added.
Google could not be immediately reached for comment.
Google said in September that it had acquired a restaurant ratings publisher Zagat to boost its online maps and local business listings with trustworthy reviews and recommendations.
Yelp said it gets its revenue primarily from the sale of advertising on its website to local businesses and national brands that seek to reach its growing audience of consumers.
In the first nine months of 2011, Yelp said it generated $58.4 million in net revenue, up 80 percent over revenue in the first nine months of 2010. In this period, the company generated a net loss of $7.6 million.