The integration of mobile networks and Wi-Fi promises to make hotspots more popular and easier to access, but it will also put pressure on providers to improve performance, according to hotspot aggregator Boingo Wireless.
The number of worldwide public Wi-Fi hotspots is expected to quadruple, and total 5.8 million by 2012, as operators look for ways to reduce traffic on their mobile networks, according to a recent study by Informa Telecoms and Media.
"[The hotspot sector] is strong and growing stronger," said Christian Gunning, director of corporate communications at Boingo, which offers users an unlimited Wi-Fi plan for two devices for US$9.95 per month in the U.S.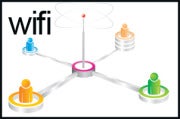 So far, the U.S. hasn't seen the massive build outs of Wi-Fi hotspots that have taken place in some parts of Europe and Asia, according to Gunning.
"One of our strategic initiatives right now is to expand coverage into categories that haven't been built out, but will be," said Gunning.
Few big national restaurant chains in the U.S. have hotspots in their restaurants. There are hundreds of thousands of locations that today lack Wi-Fi coverage, according to Gunning. Most national chains are now discussing getting connected, joining Starbucks and McDonald's in that movement. As a result, restaurants will see a big build out in the next three or four years, he said.
Wi-Fi hotspots in sports arenas, concert halls and shopping malls will also become more prevalent.
"In shopping malls it is to some degree less about consumers and their data consumption, than it is about what the mall can do with the network," said Gunning.
That could include offering local Groupon-like deals or seeing how users move around and then charging stores a premium for popular spots.
Wi-Fi hotspots are also about to become more integrated with mobile networks thanks to a specification called Hotspot 2.0, which is being developed by the Wi-Fi Alliance. It allows users to automatically move between the two network types, and be authenticated using the SIM card on their smartphone or tablet.
"What people want to do is grab their device and do what they want to do, and having to worry about which network is working and whether they can access the Internet just frustrates them," said Gunning.
The goal is to finish the specification by the end of the year and then start trials by next summer, according to Gunning.
Making it easier to connect to Wi-Fi will likely result in more users accessing hotspots and put more pressure on operators to improve their networks. Wi-Fi is able to handle the load, but there will certainly be a learning curve for some operators.
"We will have to do some brilliant RF planning to make it all work," said Gunning.
But this is the kind of validation the market has been waiting for for 10 years and operators have to be willing to make the capacity upgrades that are needed, he said.
Send news tips and comments to mikael_ricknas@idg.com