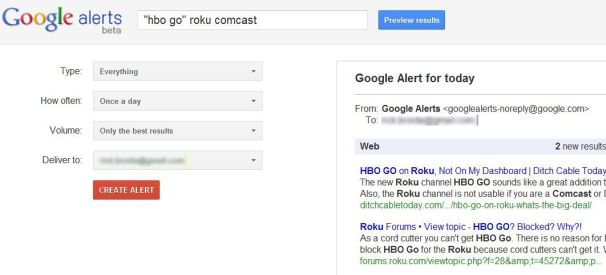 A couple weeks ago I was thrilled when Roku finally added its HBO Go channel–and then crushed to discover that my cable provider, Comcast, wasn't supporting it. (I've already fired off an indignant–but polite!–e-mail, believe me.)
Since then I've been obsessively searching the Web for any news to indicate that Comcast might be rethinking this idiotic decision. Of course, that's a huge waste of time (the searching, not the obsession). Why go to Google when I can bring Google to me?
I'm talking about Google Alerts, which are custom, saved searches performed automatically and delivered to your inbox or RSS reader. I've written about them before, but not for a while–and they're so perfect for my situation, I just had to revisit the topic.
To set up an alert, start by entering one or more search terms (just like you would for a regular Google search, and with the same optional parameters). Then, click the Type field to specify what source(s) Google should use: Everything, News, Blogs, Videos, Discussions, or Books.
Next, decide how often you want to receive alerts: "as it happens," once a day, or once a week. The first option is nice if you're following, say, a breaking news story, but keep in mind it can lead to a huge influx of e-mail: You'll get an alert every single time Google finds a match to your search term(s).
Fortunately, you can keep things manageable by tweaking the Volume setting to Only the best results. If you set it to Everything, you'll get, well, everything–and that's very often overkill.
Finally, decide if you want the alerts to arrive via e-mail or feed (i.e. RSS feed, which can go to your Google Reader page or the feed-reader of your choice).
I've used Google Alerts for many years, and continue to consider it one of the unsung heroes of the Google tool collection. It's a great time-saver, and an incredibly handy way to keep tabs on topics you want to follow closely.
Contributing Editor Rick Broida writes about business and consumer technology. Ask for help with your PC hassles at hasslefree@pcworld.com, or try the treasure trove of helpful folks in the PC World Community Forums. Sign up to have the Hassle-Free PC newsletter e-mailed to you each week.