At a Glance
Expert's Rating
Pros
Smooth integration of cloud and local storage
Easy shopping for Amazon books, music, videos
Cons
Not as flexible and versatile as other tablets
Interface still has some bugs
Sluggish performance
Our Verdict
The 7-inch, Android-based Amazon Fire will appeal to those who buy books, videos, and music at Amazon, but it will frustrate those looking for a more versatile slate.
Some people want a tablet but don't want to shell out big bucks for it. For those frugal shoppers, this week was special, as it marked the release of the $200 Amazon Kindle Fire and the $250 Barnes & Noble Nook Tablet.
Which is a better buy? I tried both for a wide range of tasks–reading books, buying and watching movies, listening to music, browsing the Web and answering email–and found that each has its own strengths and weaknesses. As a result, the right one for you may depend on what you want to do with it. (I pick my favorite for each task below.)
If you're in the market for a color e-reader, the Nook Tablet has the clear advantage, with its superior layouts and more readable, less glary display. But if you're committed to buying and renting media from Amazon, the Kindle Fire may be what you're looking for, despite its shortcomings.
To bring their tablets in at a relatively low price, Amazon and Barnes & Noble had to make sacrifices. As a result, neither tablet matches the versatility of the Apple iPad 2, or even the capabilities of a well-appointed Android 3.2 Honeycomb tablet, such as the Samsung Galaxy Tab 7.0 Plus.
Though the Nook Tablet has slightly better specs than the Kindle Fire (including 1GB of memory versus 512MB), they didn't deliver dramatically different performance, and both have their share of glitches.
But a tablet's overall performance may not be as important as itd ability to do what you want it to do well. Here's my take on which tablet is better at various tasks.
See Related Slideshow: Top 14 Kindle Fire Android Apps
Reading
Winner: Nook Tablet
Trade books, mass-market books, textbooks, magazines, newspapers, and children's books all look and function better on the Nook Tablet than on the Kindle Fire.
Both tablet's screens have a resolution of 1024 by 600 pixels, which limits how sharp the text they display can be. But the Nook Tablet's screen is less reflective than Kindle Fire's; the LCD is bonded to the glass, which mitigates reflection and increases contrast and sharpness. In comparison, I often encountered glare on the Kindle Fire's display.
I looked at the same magazines and books on each device, and the Nook Tablet was the clear overall winner at rendering text. At comparable font sizes, text on the Nook Tablet looked crisper than on the Kindle Fire.
In presenting standard books, the Nook Tablet offered more meaningful viewing choices. Though both tablets provide eight font-size options, the sizes on the Nook are more useful. It's definitely better for readers who need large type.
The Nook Tablet comes out on top for magazines, too. Barnes & Noble seems to have a broader selection of periodicals than Amazon does. Also, the Nook's scrubbing bar for moving forward and back in the magazine is better constructed than the one on the Kindle Fire. And the Nook Tablet's single-column text view makes far more sense than Kindle Fire's awkward text view, which fills the screen with hunks of text. Magazine text was more readable on the Nook Tablet overall.
The Kindle Fire often garbled entire lines of text in magazine pages; and even when I zoomed in to enlarge a page, its text looked softer than on the Nook Tablet. When I zoomed in on a magazine page on the Kindle Fire, I had trouble controlling where I ended up–the screen was so sensitive that the page jumped all over the place.
The Nook Tablet has access to a wider selection of children's books than the Kindle Fire, and presents them better. The Nook Tablet has a read-aloud feature, where a prerecorded voice reads the picture book, as well as new recording capabilities, where you can record your own soundtrack to accompany the book–a nice benefit for parents and kids alike. Better still: Many children's books on the Nook Tablet have page animations: Tap a specially coded spot, the illustrations move. The Kindle Fire versions of the same books lacked this feature.
Next: Physical Design, Navigation, and Web Browser
Physical Design
Winner: Nook Tablet
With physical volume buttons, a microSDHC card slot for adding up to 32GB of storage, and a display that's less susceptible to glare, the Nook Tablet has the edge in physical design. You'll need the extra space, however, since–though Barnes & Noble claims that the Nook Tablet has 16GB of storage–only 1GB of that space is available for users to store their own stuff on (of the rest, a few gigabytes are devoted to the OS, and the rest is set aside for content purchased from Barnes & Noble's store). As a matter of personal taste, I found the Tablet's gray bezel a bit distracting; I'd have preferred a darker bezel like the one on the Nook Color.
I liked the feel of the Kindle Fire more than that of the Nook Tablet, even though the latter weighs slightly less (0.88 pound versus 0.91 pound). But the Kindle Fire's power button is easy to press by accident, its speakers are poorly placed and lack physical volume buttons, and it offers just 8GB of storage (6.54 of them user-accessible), with no expansion card slot; that's amount of space is insufficient for a multipurpose multimedia tablet.
Navigation
Winner: Kindle Fire
The Kindle Fire is easier to move around in than the Nook Tablet is, largely because of its pleasing, consistent design and menus, and because you can orient it in either portrait or landscape mode.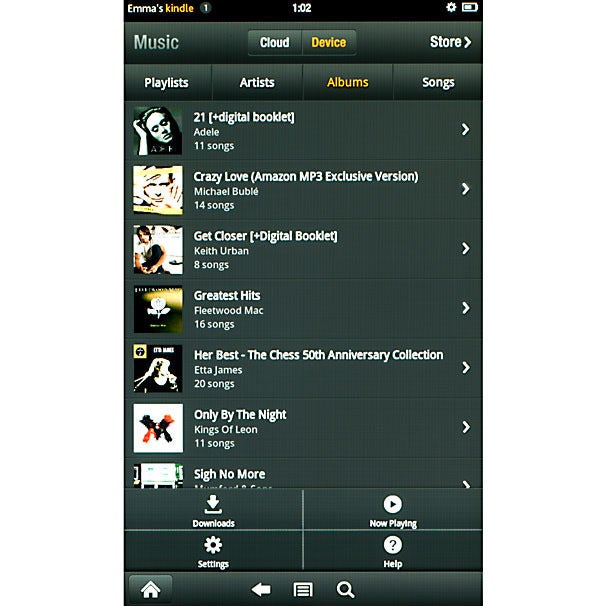 Consistent navigation elements for home, back, menu, and search options pop up when you tap the bottom of the Fire's screen. The Fire also makes it easy to distinguish between content stored on the tablet and content stored in Amazon's cloud locker. You have to go back to the home screen to jump from one type of content to the other.
All of the Nook Tablet's navigation menus are locked into portrait mode. The effect can be jarring as you move from content displayed in landscape mode to menus that the tablet forces to remain in portrait mode.
Navigating the Nook Tablet did have some positives. When I tapped 'More' on the home screen, I could see shortcuts to books, periodicals, files, movies, and TV shows that I had recently accessed. Various types of content are accessible via a single 'Library' button, subdivided into sections for books, magazines, newspapers, apps, and kids books. I also liked being able to use the 'n' button to call up the pop-up menu overlay with buttons for hopping to different sections on the tablet; unfortunately, the overlay didn't work consistently from within apps, and Barnes & Noble didn't provide a consistent back button or menu button.
Web Browser
Winner: Kindle Fire
If you can get past any privacy concerns you may have about how Amazon's Silk Web browser works, you'll find that the Kindle Fire's browser superior to the Nook Tablet's.
The Fire's browser has tabs, just as the Android 3.x Honeycomb browser does. The Silk browser makes working with bookmarks easier, and it gives you lots of settings for fine-tuning the way it works.
The Nook Tablet's browser works, but it requires more taps to perform tasks, and navigating among multiple windows takes too many steps. On the plus side, text looked sharper in the Nook Tablet's browser than in Kindle Fire's.
Next: Multitasking and Personalization
Multitasking
Winner: Neither
Neither the Nook Tablet nor the Kindle Fire handles most forms of multitasking adequately. Sure, you can play music in the background while you read. But when you move from one app to another, these tablets tend to close out the app, rather than suspending it. As a result, when you return to an app that you recently left, you may not go back to the spot where you were last (both the Nook Tablet and the Kindle Fire have email clients forget where you were).
Neither tablet makes it clear to users whether they're capable of true multitasking in the background. And neither handles switching among open apps very well. On the Nook Tablet, a few apps appear in the bottom status display (including Pandora, the native music player), but their behavior is by no means consistent.
To sum up, both tablets are significantly inferior to the iPad and to other Android tablets in their multitasking capabilities.
Personalization
Winner: Nook Tablet
With Android devices, you can choose the apps, shortcuts, and widgets that you want on your home screens. But both the Kindle Fire and the Nook Tablet have custom interfaces built on top of Android 2.3, and those custom interfaces give you far less freedom to tweak them.
Still, the Nook Tablet offers many more personalization options than the Kindle Fire does. For starters, you can add your own image as wallpaper to any of the three home screens. You can also move favorite books, periodicals, or apps to sit anywhere on one of the home screens–including layering icons on top of one another. A scrollable carousel of recently accessed or received books, periodicals, and apps runs along the bottom of the screen. If you don't want something to appear there, you can just delete it.
The Nook Tablet also provides more options for displaying your content in its libraries. Most notably, under the 'Library', a 'My Stuff' tab leads to your own bookshelves (basically, content collections that span your apps, books, magazines, and newspapers). From My Stuff, you can peruse your files through a decidedly non-Android-like file viewer, see what's archived online, and view the books that you can lend.
Amazon's Kindle Fire has a cleaner-looking home screen, but it's fairly locked down. You can't select a lock screen image or a background wallpaper of your own, and you have no control over what appears in the central carousel, which covers everything from books and periodicals to music and movies to apps and Web pages–and you can't delete any of them. You can add four apps to a Favorites shelf at the bottom of the display, and you can add multiple shelves. Oddly, you swipe down to find more "pinned" Favorites. I did like being able to drag favorite icons around to reorder them on the Favorites shelves.
Next: Buying or Renting Books, Music, and Video; Music Player; Speakers; and Email
Buying or Renting Books, Music, and Video
Winner: Kindle Fire
Amazon's Kindle Fire acts as a great vending machine for Amazon's music and video offerings. Amazon's video store is as easy to use on the Kindle Fire as iTunes is on Apple products. The Kindle Fire simplifies acquiring books, periodicals, and music, and streaming or downloading videos.
On the other hand, I also appreciated the clean approach of the Nook Tablet's Shop app, which lets you buy books, periodicals, and apps from the Nook Store. Its layout is pleasingly flexible.
Barnes & Noble doesn't sell video or music content; instead, it offers apps that let you stream content to the tablet. Hulu Plus and Netflix come preloaded, as does Pandora, Rhapsody, and TuneIn Radio Pro. They're a good start–and they offer consumers choice–but the Nook Tablet needs more options. B&N says that it will have download and rental services ready to go live early next year; but for now, this tablet is a good choice only if it already supports your chosen streaming service.
Music Player
Winner: Kindle Fire
The Kindle Fire's well-designed, convenient music player is one of its greatest strengths. The music player lets you sort by playlists, artists, albums, and songs. You can shop at Amazon's music store from within the music player, and the integration is terrific. Navigating through the music stored on your tablet and through the tunes stored in Amazon's cloud is easy, though you can't build a playlist that includes both types of files. The Nook Tablet's music player, meanwhile, seems like an afterthought. It's awkwardly designed and awkward to use. Trying to find music can be frustrating, and the player–like the tablet's menus–is locked into vertical orientation.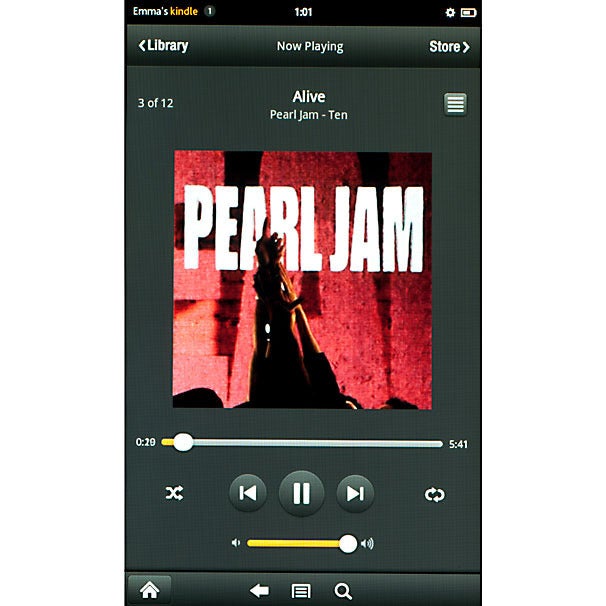 Unlike Amazon, Barnes & Noble doesn't sell downloadable music, so the Nook Tablet has no built-in store for buying individual music tracks. But it does come preloaded with optimized versions of TuneIn Radio Pro, Rhapsody, and Pandora. Barnes & Noble did a good job adapting these apps for the Nook Tablet. The Pandora app, for example, seems designed for the Nook's screen–a vast improvement over the way it looks on other 7-inch tablets.
Speakers
Winner: Kindle Fire
Amazon made a mistake by putting both speakers along the same edge of the Kindle Fire; time and again, I blocked the lower speaker while holding the tablet in two hands. But at least the Kindle Fire has stereo speakers. And they sound fairly decent, too, at least for music. When I played videos, the Fire's audio seemed too faint; but that appeared to be a software problem, not a hardware problem.
The Nook Tablet has a single monaural speaker on its back. Audio sounded tinny and thin. The original Nook Color also had a single speaker, and it's one area where Barnes & Noble should have invested in an upgraded design.
Email
Winner: Nook Tablet
Neither the Nook Tablet nor the Kindle Fire has a great native email client, but the Nook Tablet's is the better of the two. It lets you jump into Gmail labels, for example; and emails resized better to fit the 7-inch vertical display. It's too bad that the email app displays mail only in portrait mode. Also the Nook Tablet's email program lacks the Universal Inbox offered by the Kindle Fire.
Next: Pictures and Personal Video, and Apps
Pictures and Personal Video
Winner: Neither
Our test images looked sharp and lovely on the Nook Tablet, which also played our 1080p .MP4 test movie smoothly and with fine detail.
Unfortunately, the Nook Tablet's My Media gallery viewer app is a mess. It dumps all of your images into a single undifferentiated top-level view, regardless of any folders you may have organized them into on your media card. Thumbnails appear as fuzzy, poorly rendered squares. The app has a basic slideshow mode, but you can't see image or movie file names, and you can't opt to email an image to someone—all basic functions in competing Android 3.2 tablets and in Apple's iPad 2. Barnes & Noble says that its video player can also handle 3GP and 3G2 MKV video, but I didn't try those formats. The company also says that it plans to improve My Media in a future update; but at this point, the app is a hassle.
The Kindle Fire's Gallery app makes images painful to view. It automatically resizes images transferred to the device, lowering resolution and dropping detail in the process–and making it impossible to zoom in on the image if you want to show something. The Fire resized one of my test images to 486 by 324 from its original 3888 by 2592 pixels. The problem lies entirely with Amazon's Gallery app software, since that same photo renders well on the Kindle Fire in a free image viewer that I downloaded, exhibiting better color and saturation, and reasonably sharp detail. The same picture displayed in the Fire's native image gallery was much worse.
Unlike the Nook Tablet's app, the Kindle Fire's Gallery app supports folders, shows rectangular thumbnails as well as square ones, and displays image information. It can play videos just as the Gallery app does on the Nook Tablet and on Android tablets in general. My 1080p .MP4 test video ran in the same video player that the Fire used for playing videos acquired from Amazon, complete with that player's nifty 10-second rewind button. Amazon says that its video player supports just two file formats: .MP4 and Google's VP8.
My test video retained most of its sharpness and detail, though it did stutter in a couple of spots (the same video looked better and had no stutters on the Nook Tablet). In contrast, the Amazon-acquired videos that I tried in the same player looked fuzzy and often showed pixelation and artifacts.
The Nook Tablet is adequate for viewing pictures and videos, but I consider the Fire completely unusable for viewing images.
Apps
Winner: Neither
Much of a tablet's appeal rests in the apps you can run on it–not just just how many are available, but how good they are and how attractive they look on the device.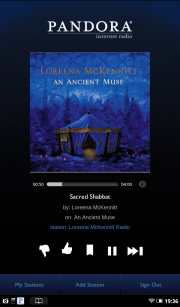 Since you're limited to the apps available in the small app stores run by Amazon and Barnes & Noble, neither tablet is a good choice if you want the hottest Android apps right away. You have no way of knowing whether cool apps will be available for either of these devices.
And since both tablets appear to lack capabilities such as multitasking and (in the Nook Tablet's case) standard menu overlays, some cool present and future apps may not run on either device.
Amazon and Barnes & Noble are trying to enlarge their app stores' holdings, but neither will come close to the number of apps that Google Market offers for Android 2.3 or that Apple offers for iOS. At launch, Amazon said that it had more than 8500 apps for the Kindle Fire, and it continues to add apps daily. Barnes & Noble says that it has over a 1,000 apps, and expects to have "thousands" by year's end.
As for how well apps work on the devices, the Nook Tablet shines in this area. Many of the apps I downloaded seemed well adapted to run on the tablet's 7-inch screen instead of looking like blown-up versions of standard Android phone apps. Barnes & Noble says that it works with its developers to optimize apps for the Nook Tablet, removing references to features that the tablet lacks, such as a camera or a GPS connection. The company also says that, in curating what apps go into its store, it tries to filter out bad-looking apps; the downside of this policy is that you end up with dramatically fewer choices than are available elsewhere.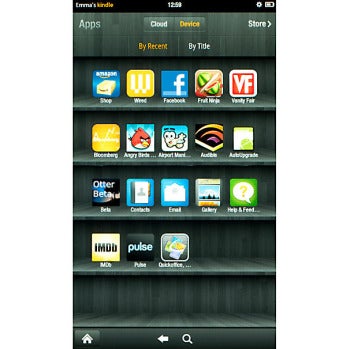 To judge from the apps I downloaded, Amazon seems to take less care to ensure that the apps for its tablet work well and look good on a 7-inch screen. I say this despite learning from a company spokesperson that "we test each app to make sure it works great on Fire." Though I found fun games like Airport Mania: First Flight (not available for the Nook Tablet) at Amazon's app store, the graphics looked fuzzy, as though they'd been blown up to fit the 7-inch display. With apps available for both Kindle Fire and Nook Tablet—such as Pandora and Quickoffice Pro–the Nook Tablet versions typically had better layouts and graphics. Even the Nook Tablet's Hulu Plus and Netflix apps looked better than the Kindle Fire's.
Kindle Fire lets you sideload Android apps, but there's no guarantee that they'll work, let alone display well. Apps that I sideloaded but that needed the tablet's accelerometer, for example, wouldn't work. Sideloading is awkward, too: You have to uncheck an option in the settings to allow non-Amazon programs to install; then you have to access the Android .APK via a file manager app.
I've seen reports that Nook Tablet has a workaround for downloading Android .APKs via its Web browser, but forums report mixed success with this technique in the wild. We haven't gotten it to work yet on our Nook, but we'll keep trying.