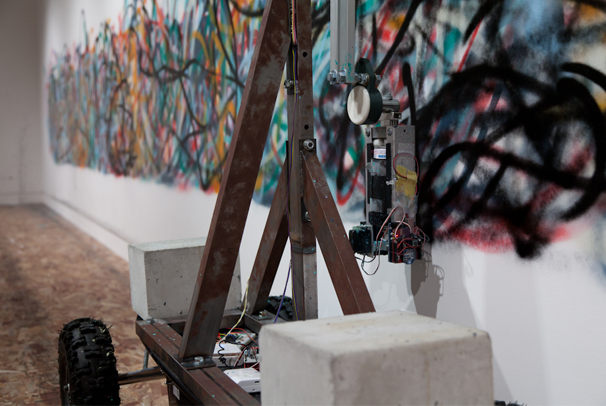 What is the Senseless Drawing Bot? This robot, created by So Kanno and Takahiro Yamaguchi, is essentially a skateboard with some custom wheels and a motor to rock it back and forth, while an arm with a paint can sways awkwardly from side to side.
When the rocking gets to a certain point, the swaying turns into bizarre gyrations due to the arms hinged design. All the while, a spray paint can at the end of the arm flops about wildly, spraying the walls in random arching patterns. The arm swings parallel to the wall, so paint doesn't splatter or spew in too many different directions.
See the below video to get a better sense of what it does:
I must say, I do love the idea of senseless robots. They're created to be so totally random, yet deep down they all have a predetermined programming and agenda that makes so much sense. I also like the idea of the contained randomness in the scribbles that bot produces. I wouldn't mind borrowing it to paint the walls in my room.
See more photos on the bot's Tumblr blog or on Takahiro's Flickr gallery. It's an awesome little bot and I like the way it works. What do you guys think, yay or nay? Leave a comment!
[Vimeo, Tumblr, Flickr via IEEE Spectrum and io9]
Like this? You might also enjoy…
Get your GeekTech on: Twitter – Facebook – RSS | Tip us off