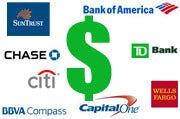 Of all the suppliers, customers, and other stakeholders with which the typical small business works, never does the list of favorites start with "the bank."
And yet for every small business, a bank is invariably a necessary evil. Their most basic functions include simply having a way to pay the bills and keep paychecks going to employees, but banks can also help when it comes time to expand, by offering mortgage services or lines of credit. Eventually every small business owner will need to ask for money one way or another.
Business owners will also find themselves ending up almost daily at their banks' websites, which have become robust enough to make most trips to the teller window obsolete.
But how do the online and mobile experiences at the country's biggest business banks measure up?
We polled eight banks–some major operations with national presences, some more regional but well-regarded when it comes to small business support–about the features their accounts offer small business customers. We chose a representative sample of banks, both large and midsize, with a (mostly) national presence. While you certainly have many more financial institutions to choose from, we wanted to make sure businesses throughout the country could pick from several options on our list. We sifted through hundreds of pages of documentation, scoured the banks' websites, talked to their representatives, and digested all the information for you here.
In this table, you'll find a specific examination of the following areas:
The number of users each account can have, and whether you can customize security for each of those accounts.
Whether and how you can receive alerts regarding your accounts (such as for low balances or large purchases).
In what formats account information can be exported.
For how long statements are available online.
Whether a mobile application for the bank exists and for which operating systems.
What payment and money transfer formats are supported.
How many physical branches the bank has.
Fees for account management. (Note: These vary widely based on a large number of factors, and only representative charges are noted here. Online service is invariably included with all bank accounts at no additional charge.)
Additional details follow for each bank discussed. Which bank offers the features your small business needs? Read on.
Bank of America is one of the largest banks in the country, and its vast array of banking products should be attractive for any business, provided you're willing to pay à la carte for the account options you need.
Basic accounts feature a simple bill payment and money transfer system, but once you move up the line to the Online Business Suite ($16 per month), you can add more goodies, including options to add more users, integrate with QuickBooks, and manage multiple business accounts with a single sign-on. From here, you can add online invoicing ($10 per month), payroll ($20 per month), remote deposit ($40 per month) via a check scanner you hook up to your computer, and more. The payroll system is especially nifty, even letting you manage sick and vacation time and overtime from right inside the online application. BofA also has the most options for native mobile access, supporting iOS, Android, BlackBerry, and–alone in this roundup–Windows Phone.
BofA boasts that it has 4 million small business customers and has been ramping up its small-business lending in the last year, loaning $7.8 billion to small companies in the first half of 2011, up 35 percent from the first half of 2010. Interest-bearing checking is available with a $5000 minimum balance, and BofA of course offers a wide range of CDs and other short-term investments, plus credit card processing accounts. The large number of physical branches is also a big plus for customers who need access to live tellers.
If BofA doesn't kill you with a thousand fees, it seems to cover the bases for any small business operation.
BBVA Compass is easily the smallest bank in this comparison (though it's part of a much larger financial services empire), with about 700 physical locations primarily in the Sun Belt. Despite its size, it competes with the big guys thanks to a robust set of mobile OS offerings–for iOS, Android, and BlackBerry–and affordable account management fees.
The bank's most popular account, Business Build-to-Order Checking, is $11.95 per month, which is waived with a nominal balance. The account comes with two "Premium Features," such as more transaction items or cash processing, a free wire transfer each month, or ATM fee rebates. Additional selections from this platter cost $10 per feature per month. Interest-bearing checking is available for sole proprietors and nonprofit organizations, and credit card processing accounts are also available. BBVA Compass also has affiliated 401(k) and small business insurance offerings.
If you're near a BBVA Compass outlet, you don't need a lot of extra features like online payroll processing, and if keeping fees and other costs down is an issue, this bank could be a good choice.
Capital One is overwhelmingly known as a credit card provider and processor, but it also offers a range of banking services, including a small-business banking service.
Compared to most other banks we examined, however, Capital One's offerings are limited. In fact, it doesn't offer traditional business checking at all, only a business money market account. It's also one of the few banks that does not support adding more users, making it a lesser choice if you have complicated security needs for multiple people accessing the account.
That said, export options are robust, as it's one of the few banks that supports Microsoft Money, and it offers mobile apps for iOS and Android. Best of all, Capital One's Business Money Market is free of all fees no matter what balance you hold–and it even bears interest on that balance, no matter how small it might be. That's a deal you simply can't beat anywhere else. Remote check deposit service is offered in some states.
If what you're looking for is more of a savings plan for a one-person shop–or, of course, someone to run your credit cards–than a daily checking account, Capital One makes a compelling case for itself.
Next page: Five more banks, and our conclusion…
Like Bank of America, Chase is another megabank that makes a compelling case for being your small business banking provider–complete with loads of extra features that smaller players can't offer.
The basics are all there: Detailed user management, three mobile OSs supported (iOS, Android, and BlackBerry; Chase was the first bank to accept check deposits via smartphone camera shot). Plus, it offers a full seven years of historical statements available online, while most banks cut out at 18 months. One of the real highlights is a robust alert system that lets you not only be notified of potential security issues but also sends a daily text message, phone call, or email with your account balances and activity–handy for the serious micromanager. Interest-bearing accounts are also available.
The only chink in the armor is the data exporting system: Quickbooks is supported, but it costs $6.95 a month to connect to the software.
Chase sets itself apart with other above-and-beyond features like payroll services for $30 per month, online invoicing at $25 per month, and a full-fledged online storefront builder for retail operations at $39.95 per month. A check scanner like BofA's is also available for between $25 to $50 per month. In addition, a free mobile app called Jot lets Chase customers tag purchases made using a Chase credit card by job, customer, or other criteria to make tracking expenses and billing customers easier. It's a small thing in the grand scheme of Chase's exhaustive offerings, but kind of a nifty one.
As retail banking goes, Citibank is smaller than most, with its 1000 or so physical locations–a number roughly in line with many smaller, regional banks. But Citi has a very large footprint, with branch offices in 14 states spread across the country.
That said, a couple of problems with Citi's business accounts immediately give one pause: Only 90 days of historical statements are available on the Citi website, and Citi doesn't offer account alerts or a mobile app. If you're willing to wait a day, Citi can get you a copy of a statement up to seven years old, but who has that kind of time these days? (People without a smartphone, I guess.) A remote deposit system is available for $60 per month.
Despite its limitations, Citi certainly has its fans, with 260,000 small and medium business customers and a large volume of small business lending: $6 billion in 2010 and up 30 percent so far in 2011. The company says it works hard to get loans and credit approvals into the hands of small business customers, and now looks at rejected applications a second time in order to make sure it hasn't turned down a customer unfairly.
Citi's account management fees are affordable: $18 per month for its most expensive plan, and interest-bearing accounts are available. Also available are some interesting specialty accounts, including escrow, security deposit, and other accounts designed for businesses that require retainers or manage trusts and that have special rules regarding the way funds are spent.
This regional bank serves the southeastern and mid-Atlantic states, where it manages to pack in over 1600 retail outlets. Its business banking services are largely par for the course, with average offerings for statement retrieval, account alerts, and data exporting features. It's missing a mobile app, but otherwise it has similar features to most national banks.
SunTrust offers a daunting collection of account options: Primary, Total, Select, and Analyzed are among the modifiers to the available Business Checking plans. But account maintenance fees can climb up to $50 per month for some plans. Some free plans are also available, though, including at least one free plan that has no minimum balance required. A variety of interest-bearing and other investment-grade accounts are available, as is an online check deposit service.
Among the extra account features available is an online payroll service for $40 per month, and SunTrust also offers 401(k) services and business insurance. It even promises to be able to aid in "transitions" ranging from mergers to IPOs.
All told, SunTrust appears to have a solid set of offerings, particularly if you live in the southeast.
"America's Most Convenient Bank" is another large regional concern that spans nearly the entire eastern seaboard from Maine to Florida. In keeping with its motto, its offerings are largely no-frills and affordable. It has no mobile app for business customers (just for retail consumers), and you can get account alerts only via email. Otherwise the bank has a full range of the usual, expected services, including the elusive support for Microsoft Money.
Beyond the basics, TD offers interest-bearing account options, credit card merchant services, remote check deposit, and a "preferred" link to Paychex payroll processing (pricing varies). Otherwise, the service offerings are largely straightforward, and the fees are low (TD waives the $25 monthly maintenance fee on the basic account if you have a paltry $500 minimum balance).
TD Bank's biggest selling point actually has nothing to do with its online offerings: Most of its 1275 retail outlets are open 7 days a week, 361 days a year–with, the company says, an average of 50 percent longer hours than its competitors. Live telephone service is also available 24 hours a day, 365 days a year.
With more than 9000 branches nationwide, if you can't find a Wells Fargo nearby, you're not looking hard enough.
Wells is a monster-size bank with a vast array of small business offerings. It features mobile apps for four OSs, and is the only bank we examined to support Palm. It offers seven years of downloadable statements, along with exceptional alert options (you can even send alerts to two phone numbers). Interest checking is available, along with remote deposit services.
Wells is weak, strangely, only in the realm of setting up additional users to access your account. While an account can have an unlimited number of owners, these accounts all get full access. Each owner can in turn configure 25 read-only subaccounts–but no security settings are available in between the two account types.
In keeping with its stature, Wells offers a host of extra services, including merchant services, payroll ($10 and up per pay cycle), and even workers' compensation insurance. The company's Business Spending Report breaks down purchases into categories, and IRA and 401(k) services are on offer, too.
All told, Wells advertises features that make it appear as robust a bank as you'd expect, both online and off.
Which Bank Fits Your Business?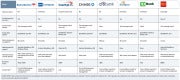 While mobile capabilities tend to vary pretty greatly for small business banking customers–and you'll have to make your own analysis as to what suits your needs–we were on the whole pleased that banks both large and small have taken substantial steps to bring their online offerings up to speed for the 2010s. We were especially happy to see that, for the most part, a small business will feel right at home with a smaller bank: There's no need to jump to a larger institution if you're happy dealing with someone closer to home.