Navigating an app store can be tricky, with vague descriptions, dubious user reviews, and sometimes buggy apps. We searched for the best apps available.
Manage Your Blogs
WordPress Free This app lets you manage multiple blogs from your mobile device. You can view blog comments, create new posts or pages, and even get stats on visitor numbers. The app is especially handy if you run several websites and need to check on them. 
Save While Shopping
Amazon Mobile Free With its barcode scanner and other price-comparison tools, this app is a must-have for smart shoppers. 
ShopSavvy Barcode Scanner Free ShopSavvy turns your phone into the ultimate barcode scanner. You can scan UPC, EAN, and QR formats on a product, find out its price at that store, and compare that with the prices at other stores and sites. If you see a better deal online than in-store, you can buy directly from the ShopSavvy app. 
Take Better Photos
Picplz Free An alternative to the popular Instagram for iOS, Picplz also gives you the ability to apply filters to the photos you take, and upload those photos onto Facebook or Twitter. You can follow other Picplz users and add your favorite photos to a collection. Picplz will appeal to social shutterbugs who love to share their photos online. 
Know It All
Dictionary.com Free Perfect for anyone who can't stand spelling errors, this app can help you make sure that you never misspell another word. It can also read words back to you aloud (in case you don't know how to pronounce them), and it has a thesaurus mode, as well. 
Manage Your Money
Groupon Free Purchase, manage, and redeem Groupon deals directly from your phone. This mobile version of Groupon also lets you share deals with your friends so all of you can take part in that killer all-you-can-eat pizza deal. 
PageOnce Money and Bills Free PageOnce lets you pay your bills, keep track of your accounts, and in­­stantly see your most recent purchases and deposits. You can also schedule real-time alerts when bills are due so you'll never miss an important payment. 
Plan Your Vacation
Kayak Free Kayak is your one-stop app for vacation planning: Book a flight, rent a car, find a hotel, and track your flight. Kayak compares hundreds of travel sites at once so you know you'll get the very best deal on your well-deserved trip. 
Get Into Shape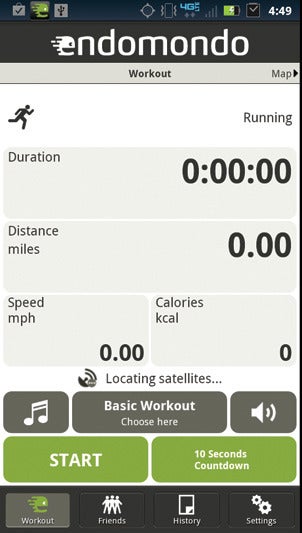 Endomondo Sports Free Whether you're into baseball, dancing, or orienteering, Endomondo Sports can help you track your physical activities. It will show you how long you've done your activity, how far you've gone (distance-wise), and how many calories you've burned. 
Eat Better
AllRecipes.com DinnerSpinner Free This app lets you search for meal options by dish type, ingredient, and de­­sired "ready" time. The highlight, however, is the Shake for Ideas feature: Shake your phone, and get a random selection of dishes and ingredients.