Furry microbe fossils could potentially change the way we understand animal evolution, battery acid no longer seems that bad for you and 3D technology isn't just impressive on a television screen or hologram. It's all happening in this edition of GeekBytes for Friday, November 18.
Don't forget, if you have any suggestions to improve GeekBytes or want to see something in particular covered, do tell us in the comments, or tip us off by emailing geektips [at] pcworld [dot] com.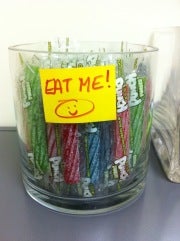 The next time you treat yourself to your favorite sour candy, you may want to think again for the sake of your teeth. The Minnesota Dental Association has made a list stating the pH number of the most popular sour candies.
The interesting part? To really show you how bad for your teeth sour sweets are, they also have roughly the same pH level of the acid inside a typical battery. Battery acid has a pH level of 1.0, while the most acidic candy available has a level of 1.6. So if you have a soft spot for sour candy, you may want to step up your dental hygiene a bit.
Check out the MDA's crazy findings in full. It's an older study (circa 2008), but it's worth a read if you haven't seen it before.
If you happen to not be a fan of the Android Development Kit already out there or want anoher challenge, then SparkFun's Electric Sheep chip may be tempting. The $80 development board lets you create custom Android accessories for various devices that connect via USB using Android's Open Accessory Protocol. Get the full rundown and schematics of the chip on SparkFun's website.
If you have ever seen 3D chalk street art, you'll know how difficult it can be to make the work look realistic. If you haven't, let's just say it involves a lot of stretching to get the proportions just right. So staring at this cavernous hole creation by London street artists Joe and Max will make you particularly dizzy. The art is an attempt to break a Guiness World Record, and is 12,490 square feet in size. Reebok's Crossfit sponsored the event, which took seven days to complete. If you want to check it out, watch the video below: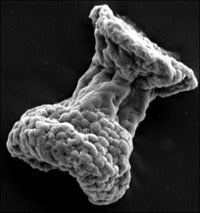 The geologists over at MIT and Harvard have finally been able to discover just how old the oldest living hairy microbe was. The eldest ciliate (the name for microbes covered in hair) unearthed dates back well over 635 million years ago, suprisingly leaving fossil remains to be discovered–something hairy microbes don't usually do. More importantly, researchers believe this could have an affect on how life back then my have been, including the evolution of animals.
Now that is something to think about over the weekend!
More GeekBytes…
Get your GeekTech on: Twitter – Facebook – RSS | Tip us off