An online catalog of promotional material from companies hawking high-tech spy products to law enforcement and intelligence agencies was published today by the Wall Street Journal. It's a catalog that's at best, disturbing and at worst, unnerving.
The Journal created the catalog from more than 200 marketing documents gathered at a surveillance conference in Washington, D.C. last month. It's a compendium of tools for breaking into computers, cell phones, and computer networks, as well as engaging in online subterfuge. (See also "Spies Like Us: Spy Gear for Your Inner Secret Agent.")
Although law enforcement and intelligence agencies around the world do their own surveillance work, in recent years they've turned to the private sector for their spy tools, the Journal says. Citing information from the show's operator, TeleStrategies, it reports that the annual retail market for surveillance tools has mushroomed from nearly nonexistent in 2001 to $5 billion today. (See also "Spy Tools: Tips from the Pros.")
The Journal's catalog is organized into five surveillance areas: hacking, interception, data analysis, web scraping and anonymity. In the hacking area, for instance, an Italian company called HackingTeam seems to be offering government agencies the ability create their own botnets for monitoring hundreds of thousands of targets. Another selling point of its spy solution is that it's cross-platform, capable of infecting machines based on the Windows, OS X, iOS, Android, Symbian, and Blackberry operating systems.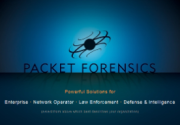 In the interception area, an Arizona company called Packet Forensics makes portable packet inspection appliances. Those devices are used to intercept data on a network and analyze the packets that carry it. Some selling points for its LI-5 unit: it's solid state so it lacks moving parts; and with the company's software, it makes controlling hundreds of network probes as simple as handling one.
Data analysis companies create tools for reviewing electronic recordings and constructing social networks. The social networks that these companies focus on, however, go beyond infiltrating Facebook or Twitter. For example, California-based SS8, which also has offices in Europe, South America, the Middle East, North Africa, China, and Malaysia, says its Intellego product can extract relationships from intercepted communications and display those relationships in an intuitive and interactive way.

Web Scraping, another area covered by the catalog, refers to tools used to mine the public Internet for information. Intelligence-strength tools, however, have capabilities beyond those that might be used by a typical marketing intelligence firm. Kapow Software, for instance, notes that its Katalyst solution has the kind of deep understanding of web page structure needed to snatch data across the Internet. "Without that capability," its marketing materials say, "data cannot be completely or accurately harvested from websites — and that's not good enough when national security is at stake." (See also "10 Top Spy Gadgets.")
Anonymity is still just a niche in the surveillance tools market according to The Journal. In fact, only one company appeared at the show with an anonymity offering. Called ION (Internet Operations Network), the company makes solutions that hide or disguise IP addresses. According to the company, its product "offers multiple levels of indirection that provide a secure platform from which to conduct foreign and domestic research that is not attributable to any government entity, or anyone else that would raise suspicion."
"Or anyone else that would raise suspicion?" How creepy is that?
Follow freelance technology writer John P. Mello Jr. and Today@PCWorld on Twitter.