Google Chromebooks, the browser-based laptops that launched this summer, are getting price cuts.
Starting Monday, Acer's AC700-1099 Chromebook will cost $300, down from $350. This 11.6-inch laptop has an Intel Atom N570 processor, 2GB of RAM, and six hours of battery life.
Samsung's 5 Series Chromebook is also getting a price cut. The 12.1-inch laptop has an Intel Atom N570 processor and 2GB of RAM. The Wi-Fi only version now costs $350 (down from $430), while the 3G version, which includes 100MB of data per month from Verizon, now costs $450 (down from $500).
(Buyer beware: Samsung is selling a new black Series 5, but with a smaller battery that only gets 6.5 hours on a charge. The older white and silver models last 8.5 hours and otherwise have the same specs for the same price.)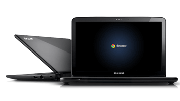 "Chromebook" is Google's name for laptops that run Chrome OS, an operating system designed around the Chrome Web browser. You can't install software on Chromebooks, but some apps in the Chrome Web Store are able to function offline. The small amount of local storage available on Chromebooks is mainly intended for ferrying files to and from the cloud, not for permanently hoarding data offline. Because Chromebooks can quickly wake from standby, and can't run malicious executables, Google has tried to promote them as a fast and safe way to access the Internet.
Still, Chromebooks are a far-out concept for computing, and they've been a tough sell so far. According to DigiTimes, Acer sold only 5,000 Chromebooks in their first month, and Samsung sold even less. Reviews weren't stellar either: our own Jason Cross noted that Samsung's Series 5 suffers from "general sluggishness," and that the limitations of Chrome OS routinely frustrate the user.
I've personally always liked the concept of Chrome OS, but I do think Google fumbled by not building system-wide cloud storage–a GDrive, if you will–into the software, so you'd never have to store anything offline. And there's just no excuse for sluggish Web browsing on a device whose only function is to get on the Internet. Price cuts are great, but I'd rather see Google announce major performance improvements and new features instead of cheapening the product.
Follow Jared on Facebook, Twitter or Google+ for even more tech news and commentary.