Poser 9 ($250, buy-only) is not just for geeks wanting to create their very own Weird Science. The program makes it so easy to get started with 3D modeling, it's the go-to tool anytime you need to manipulate or animate a 3D figure. Whether that figure is an animal, human, or alien, Poser 9 can make it dance.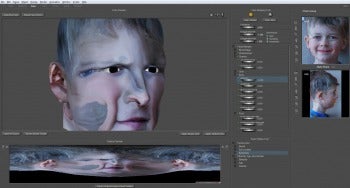 Poser 9 comes bundled with more than 1.7 GB of skeleton, nude, animal, and cartoon/fantasy/anime characters plus clothing, hair, props, scenery, and textures. You can import your own in a number of formats as well. You may also purchase (and sell) additional manipulative creations from Content Paradise, a "Poser market" Web site operated by Smith Micro, Poser's publisher.
Although Poser 9 can create scenery and props–even things as complicated as cars–the program excels at the manipulation of figures. Poser 9 has perfected the simplicity of controlling features, expressions, and detail like skin tones. It's very easy to change everything from chin (forward/backward, pronounced/recessed, retracted/jutting, shallow/deep, small/large, short/tall), to ethnicity, age, and gender.
Poser's ability to relocate any of the tool boxes, including the Quick Start tutorial, is a little disconcerting if you're not expecting the boxes to fly into their re-docking position (the default setting has you automatically re-dock anywhere you hover). But it's a feature that makes the user interface just that little bit more useable and friendly, and if you really don't like the drag-docking, it takes one click to disable it.
You control most of Poser's features with wheel-like sliders. Using the sliders with a mouse lets you modify an avatar with high precision, but the most precise controls let you key in numeric values; I just wish you could do that without having to open each slider's advanced settings. Other controls are drag-and-drop, and it can be tricky to get the exact effect you want without practice. The scale option, for example, seemed persnickety. That said, compared to Blender (which is free), Poser 9's user interface is attractive, fast, and easy to learn. It will seem familiar to anyone who's used a PC in the last five years.
Both Poser 9 and Blender use Python, but the ways the programs allow you to interact with the source code make the two very different. Poser 9 focuses on ease of use and control via the mouse and interface elements such as menus, buttons, and dials. Blender, the open source alternative, favors keyboard shortcuts and in-your-face Python scripting code. If you are so inclined, PoserPython bridges the gap, where you can write your own scripts to automate tasks or record complex actions and run them in the Poser scripts menu.
You can import BVH Motion, 3D Studio, PXF, Lightwave, or Wavefront Objects files into Poser 9; and export all of these plus RIB, VRML, COLLADA and various image file (PNG, TIF, BMP, TGA, JPG, PSD), so even if you're not a fan of Poser 9, the manipulative content alone (imported into a different 3D animating program like Blender, Maya, or 3DS Max) may make it worth the money. Unfortunately, if you're really hardcore and want a 64-bit version of Poser, you'll have to upgrade to Poser Pro 2012 ($500).
Whether you want to make animated movies or video game avatars or need digital crash-test dummies or animated crime scene reenactments, you can't beat Poser 9 for out-of-the-box ease of use. Even with no prior 3D modeling experience, it's relatively simple to adapt, pose, and animate any of the many included templates. Creating a fully digitized version of whoever it is in your imagination may take some dedication and time, however. So, what would you little maniacs like to do first?
Note: The link takes you to the vendor's website, where you must buy the software to download it.
–Clare Brandt