At a Glance
Expert's Rating
Pros
Good tutorials
Relatively easy to start
Cons
Buggy in Vista
Few export formats
No rendering engine
Our Verdict
Build and animate complex 3D objects and accurately-engineered models with 3DCrafter.
Amabilis Software's 3DCrafter (freeware) is a modeling and animation tool that promises drag-and-drop control. Don't get fooled into thinking this is easy, though: You need both artistic talent and a knack for engineering. Using 3DCrafter 9.1.1 is a bit like building a Lego model without instructions. With chopsticks.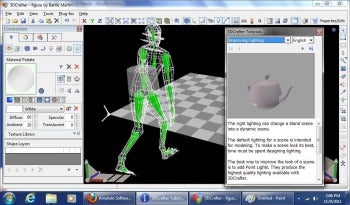 I found 3DCrafter's many non-intuitive buttons and lack of menus daunting and a little disappointing. 3DCrafter either has missed the point of drag-and-drop simplicity, or has so many features it's impossible to organize them all in a logical way.
Your starting basic shapes are a cube, cylinder, sphere, torus, or cone, and just like in Blender (also freeware). You can drag and drop these into your workspace where you build, extrude, and mold your final model. Although 3DCrafter's tool icons are well labeled if you hover over them, there are many tools, and it takes experience to remember what each does, especially if you are inexperienced with 3D design and not familiar with tools like Lathe, Equalize, or Crease. Unlike Blender, however, 3DCrafter doesn't rely on keyboard shortcuts.
For a beginner, compared to the frustration level of a program like Blender, 3DCrafter has hit the mark on one thing at least: tutorials. The Help menu includes the usual content and search features, but also a tutorial viewer that includes tutorials for all levels, from first-user to pro. There is also a "tip of the day" pop-up feature. It's not quite detailed enough to be useful on its own, but coupled with the help search, can help you learn a new trick or two.
One thing that 3DCrafter doesn't include is a built-in rendering engine, at least in the free version. This can be a little frustrating if you are new to 3D and want to check your progress frequently. You have to export your art as a .pov file and render it in POV-Ray, a freeware rendering engine. The lack of a thirsty rendering engine has the advantage, however, of making 3DCrafter a good choice if you don't have a high-end graphics machine. I ran 3DCrafter on a Dell Inspiron Mini running Vista with no dedicated graphics RAM, 1 GB system RAM, and an Intel N450 Atom (1.67 GHz) CPU, and it worked just fine.
Although 3DCrafter doesn't have anything close to the volume of content bundled with Poser 9, there are wireframes you can download from other 3DCrafter users for free as starting off points for your own creations, and a established community of users that are eager to help out. You can also import AC3D, AutoCAD, DirectX, Imagine, Lightscape, LightWave, Maya, Quicktime 3D Metafile, Raw Triangles, RealiMotion, RenderWare, StereoLithography, 3DCrafter Object, 3DStudio, trueSpace Object, VideoScape, VRMLL 2.0, Wavefront, WorldToolKit, XGL, XYZ, and ZGL files into all versions of 3DCrafter. Exporting is a different matter: if you want to export as anything other than POVRay, you have to upgrade to either 3DCrafter Plus ($35) or 3DCrafter Pro ($70).
Other benefits of upgrading from the free version of 3DCrafter are additional features like Create-a- Face, Duplicate, and Reset Animation Positions (included in both Plus and Pro versions); and Auto Mirror, Clone, Split Faces, and more (Pro version only). 3DCrafter Pro also supports scripting; more detailed Boolean and animation operations, timelines, and sequences; a Terrain Building tool; photo-realistic rendering; and more.
As with all 3D software, how much you like 3DCrafter is going to depend on how dedicated you are to learning. Regardless of your prior experience and talent however, the free version of 3DCrafter won't provide you with the tools to create a Blender/Maya/3DStudio-quality end product. 3DCrafter has some annoyances and is hard to learn, but if you're interested in building trains, flight sim airplanes, or other technically-correct engineered models, you may want to persevere with it, if only for the support network of like-minded artists.
—Clare Brandt