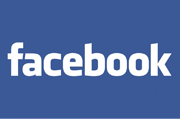 Facebook has updated the "Six Degrees of Separation" theory, announcing that a joint study shows that any single person on earth is a mere 4.74 steps away from being introduced to any other person, instead of the believed upon six.
Facebook paired with the University of Milan to approximate the "number of hops," or degrees of separation, between all pairs of individuals on Facebook. The study found that while 99.6 percent of all pairs of people on Facebook are connected by five degrees of separation (six hops), 92 percent are connected by only four degrees (five hops). According to Facebook, the average distance in 2008 was 5.28 hops.
The study also found that people are much more closely connected to individuals in their own country. (In any single country most people are connected by only three degrees, or four hops.)
Facebook naturally attributes some of this closeness to Facebook itself, as well as social networks in general. "And as Facebook has grown over the years, representing an ever larger fraction of the global population, it has become steadily more connected," Facebook said in a blog post announcing the study results.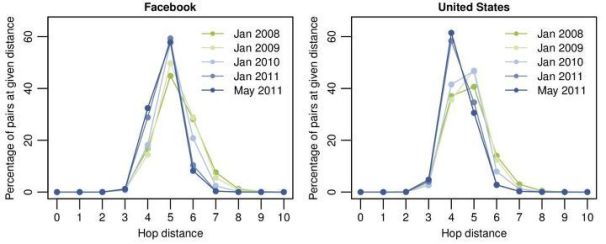 The "Six Degrees" concept was first studied by Stanley Milgram in 1967. Milgram's study consisted of just 296 volunteers, and determined that the average number of hops between people was about six — or 5.2 degrees of separation.
Facebook acknowledges that its study can't really be compared with Milgram's, as Milgram's subjects had "only limited knowledge of the social network," while Facebook has "a nearly complete representation of the entire thing." In other words, it's possible that a Facebook-esque study in the 1960s would have revealed similar numbers, because Facebook is able to estimate the shortest distance between any two people using its data.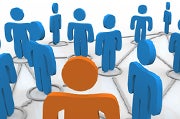 It's important to note that Facebook and the University of Milan's findings are taken from Facebook's data. While this isn't a bad thing — after all, Facebook has more than 800 million users, it also means that Facebook is extrapolating to find its numbers. It's likely, after all, that the people on Facebook happen to be the particularly social ones, and so it's possible that a study of the "Six Degrees" phenomenon might reveal different results if also applied to people who do not use the social network.