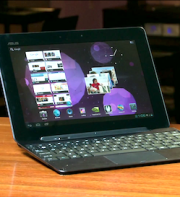 NVIDIA has released a video of Google's Ice Cream Sandwich running on the new Transformer Prime tablet from Asus, giving consumers a glimpse of a powerful OS in action.
Asus' Transformer Prime runs the quad-core Tegra 3 processor from NVIDIA, previously code-named "Project Kal-El." When Asus announced the device, which "transforms" into a laptop with a docking station that can be purchased separately, it was running Android 3.2 Honeycomb.
NVIDIA claims the Tegra 3 is the world's first quad-core mobile processor, consisting of an ARM Cortex A9 CPU and integrated 12-core GeForce GPU. The company highlights the ability of its hardware to stably run Ice Cream Sandwich in the video, which was shot two days after the source code for Ice Cream Sandwich was released.
You can check out the demonstration for yourself below, but the tablet definitely seems to be able to render 1080p video and run a graphics-intensive game called Riptide pretty flawlessly for at least a few seconds.
"Thanks to Google's developer support, NVIDIA's experienced software team was able to work with Asus to quickly bring up Android 4.0 ICS on the Transformer Prime," NVIDIA's Will Park wrote in a blog post.
NVIDIA says the video is an early demo running on actual production hardware. The Transformer Prime is currently available for pre-order and Asus' website says it will ship with Honeycomb, but will be "Ice Cream Sandwich upgradeable." Retail prices for the Transformer Prime start at $499 for a 32 GB model. The dock accessory adds another $149.
Follow Eric on Twitter, and at ericmack.org. Follow PCWorld on Twitter, too.