When it comes to ethernet switches, what do you get for the extra money, besides more ports? You can buy a basic eight-port ethernet switch for connecting PCs together for well under $100, but data center versions with 24 ports or more can often cost well over $1000. Speed, network segmentation, power over Ethernet (PoE), quality of service (QoS) and management features are some of the more common extras. Here's what each of those features can do–and why you should spend extra for them.
1. More Speed
The original ethernet specification provided 10Mbps. Speeds have increased through the years, from 100Mbps to 1000Mbps or 1Gbps, and then all the way up to 100Gbps. It's ideal to have the faster speeds for connecting servers and storage, or as a backbone to connect multiple switches to each other. For instance, if your PCs are connected at 1Gbps, then 10Gbps or 40Gpbs will be better for connecting multiple switches, or for connecting servers or storage that must support multiple client PCs at the same time.
2. More Networks
A basic ethernet architecture has one address space that includes all the PCs, servers, storage, and other devices on the network. There are two issues with this: Every device on the network can see every other device on the network, and the default address space only allows for 256 devices. You can use a larger address space, but this involves changing the default for every device on the network. A simpler and more efficient approach is to divide the network into multiple address spaces, or virtual LANs. This can improve network performance, security, and allow for more devices all at the same time. Since devices on each VLAN don't see the other VLANs, traffic is reduced. In addition, you can enhance security by segregating departments with special security needs, such as HR or accounting–and each separate VLAN can have up to 256 devices with the default address space.
3. Power Over Ethernet
Power over Ethernet (PoE) delivers DC power to devices connected to the switch, removing the need to have separate power bricks for devices such as wireless access points, network cameras, or IP phones. This can greatly simplify the deployment of large numbers of devices, since they can be placed wherever a network connection is available.
4. Quality of Service
Quality of service allows you to designate certain kinds of traffic as more or less important, ensuring that users playing games or watching YouTube videos don't eat up all the bandwidth, while users trying to make business phone calls or access the company database are left with poor performance. Switches allow you to designate traffic by protocol or application type, so that you can make sure that the applications you use get bandwidth priority over non-critical apps.
5. Management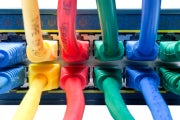 Network management is something that many administrators only turn to when something is wrong. Many switches allow for troubleshooting by port mirroring or port forwarding, which lets you sample traffic on other subnets without having to have a networking monitoring tool on each separate subnet. In addition, most switches will allow you to collect traffic statistics for each subnet, so you can accumulate historical data over time and identify typical network spikes or other issues before they cause problems.
In any organization with more than a couple of dozen users, advanced ethernet switches can pay big dividends in better performance, security and user satisfaction. They're worth sdf the investment for the time they can save in administrator troubleshooting alone, not to mention the additional capabilities they can give you to adapt your business to the changing IT landscape.