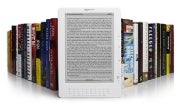 Spooked by the possibility of piracy, one publisher has removed its e-books from libraries' digital shelves, including Kindle editions.
Penguin Group USA cited "concerns about the security of our digital editions" in a statement to Library Journal's Digital Shift blog. The publisher didn't elaborate on its concerns, but said it's "working closely with our business partners and the library community to forge a distribution model that is secure and viable."
In other words, Penguin wants to make sure that library e-books can't be easily stripped of DRM and kept by the borrower without penalty. Overdrive, the largest distributor of library e-books says it hopes to restore access soon, but it's not clear what kind of anti-piracy solution Penguin Group seeks.
Library E-Book Limitations
Amazon began supporting library e-books on the Kindle in September. Users can go to Overdrive's website, find an e-book from a local library, and select "Send to Kindle." From Amazon's Website, users can then send the e-book to any Kindle location, including smartphones, tablets, computers, or e-readers.
It's great when it works, but library e-book selections are limited by the number of licenses the library has. Moreover, the concept of lending e-books stands on shaky ground with major U.S. publishers, as PaidContent points out.
Macmillan and Simon & Schuster don't lend e-books at all, and Hachette doesn't allow new books to be borrowed. HarperCollins requires libraries to buy a new copy after an e-book has been borrowed 26 times. Random House is the only major publisher that allows unrestricted access to its e-books through libraries. Penguin's sudden withdrawal from library e-book lending–even if temporary–underscores how publishers aren't eager to let libraries enter the digital age.
Follow Jared on Facebook, Twitter or Google+ for even more tech news and commentary.