The Kindle Fire launched just over a week ago, and despite some issues and mediocre reviews, Amazon's media tablet is selling well and may receive a hardware update as early as 2012.
Sales Strong Despite "Meh" Reviews
Perhaps because of its low starting price–$199, which is considerably less than the $499 iPad or similarly-expensive Android tablets–the Kindle has been selling very well. Analysts say the Kindle Fire has already shipped shipped 6 million units, which makes Amazon's not-quite-tablet a true market contender.
Strong sales aside, the device didn't live up to its hype. Most reviews hit the middle ground: positive on some parts–such as Amazon's unique overhaul of the Android OS and the tablet's general ease of use–but highlighting some of the device's more serious problems. Common complaints include the Fire's paltry 8GB of storage (and no option for expansion with MicroSD cards), the lack of physical volume and home buttons, and a buggy UI that occasionally freezes.
The Google Problem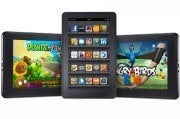 The Kindle Fire's apps are also a problem. The device can only access Amazon's Android Appstore, which is curated by Amazon to filter out the spammy junk that clogs other app stores. Amazon's store has some of the content found in the more robust Android Market, but Amazon neglected to whitelist any of Google's apps, such as Gmail, Google+, Google Voice, and Google Maps, leaving the already-hobbled device with even less functionality. (Though, to be fair, Voice and Maps do require a microphone and GPS, respectively, which the Kindle Fire does not have.)
Fear not: there are rumors aplenty that Amazon intends to build 8.9- and 10.1-inch versions of the Kindle Fire. Those bigger, likely more expensive, tablets, are believed to be coming as early as the second quarter of 2012. This hardware update could add functionality in the form of a camera, GPS, and more buttons, as well as a cleaner interface.