The midweek edition of GeekBytes is here, bringing you your daily dose of geeky news in a shorter form. Today we have a handy Thanksgiving guide, a fun use for low-tech disposable cameras, and another amazing zoopraxiscope (yes, that's a word) that doesn't need backlighting.
Jeff Potter, who happens to be the guy behind the "Cooking For Geeks" book, hacked a slow cooker using a temperature controller, a J-type thermocouple and an extension cord. Jeff explains how this will transform your slow cooker in the video below: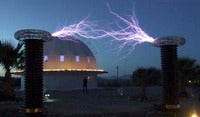 If you thought the current World Record for the biggest Tesla coil was impressive, a new competitor to the title might be even more awesome. The largest-ever such coil was created in 1903 by Nicola Tesla. It stood 18 stories high, but was torn down before it could be used. But one person will attempt to build a usable dual-coil unit that will be 118 feet tall and 100 yards long when completed.
This new Tesla coil is expected to produce 10 million volt-arcs, which is why it's being built in the Nevada desert. If that's not enough to stimulate your inner mad scientist, I don't know what will. Its creator, Greg Leyh, explained his reasons for building the new Tesla coil in The New Scientist.
A small project that started off as a bit of fun with friends and family has become a huge hit on Kickstarter. Katie O'Beirne decided to leave disposable cameras in two of New York's parks and let passers-by take a picture as part of an art project. The only request was that people were within the frame–the more the merrier. Not only did this result in some really interesting photo sets, but it also got enough backers on Kickstarter to convince Katie to transform the project into an art show. Look at her Google map to track down where she left her cameras.
If you thought the stroboscope from yesterday's GeekBytes was cool, check out this GIF Player by Pieterjan Grandry. The player is very simple–each frame of the animation is put on a paper disc within a wooden box, then spun around quickly. You view the finished result through the hole in the lid. [via Hack A Day]
GeekBytes will be taking a break tomorrow to enjoy the holiday. We'll be back on Friday with plenty of great news to share!