While London's massive Olympic park is still very much a frenetic construction site, IT engineers are fine-tuning the equipment that will be used to transmit scores, let athletes send e-mail and transmit high-definition video of the Games.
The Olympic Games are set to kick off on July 27 next year and will be followed by the Paralympic Games. Test athletic events are already under way, which are being used to evaluate the resiliency of high-speed data networks costing millions of pounds.
In a skyscraper in London's Canary Wharf financial district, Olympic organizers opened a Technology Operations Center (TOC) last month and that act as mission control for monitoring the health of Olympic IT systems.
The TOC's location is a soft secret, and organizers did not want its exact location to be published for security reasons. More than 400 people can work in the TOC, monitoring athletic events and managing a trouble-ticketing system for when an IT problem crops up. During the games, the TOC will monitor 94 competition and non-competition venues.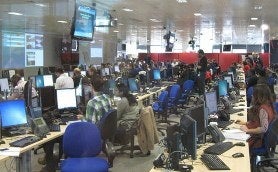 On Thursday, the TOC was abuzz with activity. A large flat screen positioned in the front of the room advised there were no "Sev 1s," or IT problems of the worst kind.
Incidents in that category might include a failure in the replication of data across storage arrays, said Michael Trainor, a service project manager for Acer for the games. Acer has a large role in the 2012 Olympics and will provide much of the IT hardware, including 11,500 desktops running Windows 7; 1100 laptops; 900 servers, and other parts including SAN storage systems, touchscreen monitors and standard monitors.
Checklist and Countdown
Acer has a lot of work to complete before the games, Trainor said.
The TOC runs a trouble-ticketing system, with turnaround times set for specific problems, Trainor said. In March and May next year, two major rehearsals will test the mettle of the network, and engineers will practice dealing with managing trouble tickets for problems such as an unplugged cable.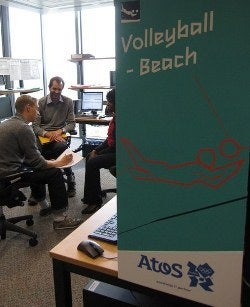 The ultimate goal when the games kick off is for technicians to simply be bored. To do that, they're being as risk-averse as possible, Trainor said, including keeping the main network isolated from the greater Internet.
In the same building as the TOC, an integration lab was opened in January, composed of cells dedicated to configuring and testing the equipment needed for specific events.
The cells carry labels such as Beach Volleyball and Equestrian. Prior to an event, the equipment will be dismantled, packed up and placed onto pallets for deployment to a venue, Trainor said.
The integrator Atos is developing Olympic-specific software applications that will run on the Acer machines, along with time-keeping specialist Omega. The other official Olympic technology partners are Airwave, BT, Cisco, Panasonic and Samsung.
Real-Time Data for Media
One of the key software applications is the Commentator Information System, which feeds nearly instantaneous results to broadcasters and journalists. Other systems include "myinfo," an intranet system that will be accessible to media, athletes, and press that includes bio information for athletes, schedules, results, and weather.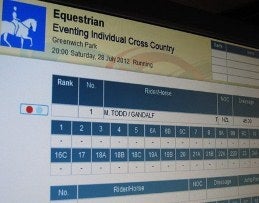 BT is building a dedicated network just for broadcasters. It has strung a ring of optical fiber cable around the Olympic Park to handle the 6 Gbps of multimedia data expected to be generated by broadcasters and other media. Over 14,000 TV outlets are expected to cover the games with some 20,000 accredited media working from a massive broadcast center in the park.
The BBC holds the digital media rights for the games and has an ambitious plan: Its "Sport" website will carry live coverage of every single sport every day, which the broadcaster estimates is 2,000 hours of live sport. The BBC will publish 24 high-definition streams on its website. Much of that content will never be broadcast on regular TV.
According to the BBC's preliminary coverage plan, it is compiling profiles of more than 12,000 athletes that users can access while they're streaming an event, according to a video posted by TheMediaBriefing.com of a presentation in October by BBC's head of product for Sport, Cate O'Riordan.
Athlete statistics will be updated in real time, and that data can be handed "straight to our users," in the same fashion it is transmitted to commentators, O'Riordan said.
Send news tips and comments to jeremy_kirk@idg.com