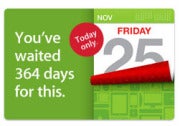 If you're looking to buy a shiny new gadget with a fruit-shaped logo today, Apple has joined the Black Friday deal bonanza with several offers. On this international sale day, you can save some money on an iPad, iPod Touch, MacBook, and iMac or accessories. The deals are both online and in Apple retail stores everywhere.
Apple's 2011 Black Friday deals are in line with previous offerings, which means they are not the biggest deals you will find around for these products (you might have more luck with third-party retailers). Nevertheless, you can save $41 on an entry-level iPad, now starting at $458, or up to $61, depending on the capacity and model you choose.
The iPod Touch line has discounts ranging from $21 for the 8GB model (now $178) up to $41 for the 64GB capacity model, now $358. The iPod Nano starts at $118 after an $11 discount for the 8GB variety. The $11 discount applies for the 16GB iPod Nano models too.
Better Deals on Macs and Accessories
This Black Friday, better deals are available from Apple if you are looking to buy a Mac. The MacBook Air and Pro are $101 less expensive today, starting at $898 for the basic MacBook Air and $1098 for the entry-level MacBook Pro. The iMac had $101 shaved off its price as well, starting at $1098 for the entry model.
Further discounts can be obtained for Apple accessories: The Magic Trackpad, Keyboard, and Mouse are $11 off, now at $58 each. The 2TB Time Capsule is $21 off, now at $278, while the Airport Extreme Base Station is $158 after a $21 saving. You can also get a less expensive iPad Leather Smart Cover in red ($11 off) or $58 and save $5 on a $50 iTunes gift cards, now $45. There's also a variety of discounts on third-party accessories for most Apple gear.
Follow Daniel Ionescu and Today @ PCWorld on Twitter