Cyber Monday holiday shoppers beware — scammers can be lurking with bogus websites and fake emails to separate you from your money or even your identity.
The large number of people expected to shop online Monday presents thieves with a golden opportunity to bilk unsuspecting consumers. If you're planning on letting your fingers do the shopping, here are five tips to help you stay safe.
Don't Click E-Mail Links
Following links from phony e-mail is one of the oldest methods for perpetrating any online scam. So don't be fooled by messages in your inbox offering enticing sales at known sites and then clicking away only to land on a scam site.
Instead, open up your Web browser and enter the URL to the site offering the discounts you're looking for and do a search for the items yourself. If you can't find the amazing deal from the e-mail, it's probably a scam, says Ron Meyran, director, security product marketing for security firm Radware.
Ridiculously Deep Discounts
With many retailers offering deep discounts, sometimes as much as 50 percent, it may be tough to figure out which deals are too good to be true. The best way not to be taken in by a scam is to only shop at sites you know and trust.
You can also check out the Better Business Bureau to see if the site you're visiting is accredited by the group. The National Retail Federation's CyberMonday.com also has a list of legitimate retailers offering Cyber Monday discounts.
Secure Your Purchase
The BBB advises you to make sure your purchase is secure by only entering credit card details on Web pages that use SSL (secure sockets layer) security.
To make sure you're on a secure page, check to see that the URL for the page begins with "https://" and not "http://." That "s" lets you know the site is secure. Most browsers will also show a lock icon in the lower right corner of the browser window to let you know you're on a secure site.
Pay With Credit Cards Only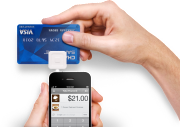 Another good tip from the BBB cautions you to only pay for online purchases with a credit card as opposed to a wire transfer or other non-plastic payment method. Federal laws let you dispute an item on your credit card bill if you don't receive your purchase, according to the BBB. Many credit card providers also have "zero liability" policies meaning you're off the hook if a bad guy gets your credit card and starts using it, the BBB says.
Tune Up Your Software
As with any guide to online security, make sure that you're operating system and antivirus software are up to date with the latest security patches and other updates. That way if you do end up on a malicious site you have the best protection possible against any attempts to download or execute code on your machine.
You should also use a modern web browser such as the latest versions of Google Chrome, Internet Explorer, Mozilla Firefox, and Safari. These browsers will also offer protection against malicious activity and steer you away from sites known to exhibit nasty behavior.
Expectations for a busy Monday are reason enough to take these tips to heart.
Cyber Monday is the National Retail Federation's official kickoff to the online holiday shopping season, when bargain hunters across the U.S. will be looking for one-time deals, deep discounts, and free shipping.
Cyber Monday 2011 is expected to be almost as popular with shoppers as Black Friday, according to a recent survey of more than 2000 online shoppers by price comparison site PriceGrabber.com. About 39 percent of those surveyed said they planned on shopping online Monday, while 40 percent said they planned on deal hunting November 25.
The bottom line: Cyber Monday is a great time to take advantage of deals. Just remember to rely on your own common sense and these tips to stay safe and secure.
Looking for more Cyber Monday tips? Check out my colleague Tony Bradley's "Three (and a Half) Tips to Survive Cyber Monday."
Connect with Ian Paul (@ianpaul ) and Today@PCWorld on Twitter for the latest tech news and analysis.