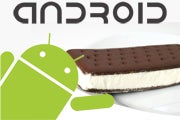 We're still waiting for an official Android 4.0 Ice Cream Sandwich phone to go on sale in the United States, but the CyanogenMod team is serving up their take on the new mobile OS for certain phones right now.
CyanogenMod is an aftermarket firmware for Android phones–essentially it's a ROM that brings all kinds of new features and controls to Android, along with a slick interface. The lead developers on the team have been busy the last few weeks building CyanogenMod 9, based off the open source code for Ice Cream Sandwich, which Google recently released.
So far, an alpha version of CyanogenMod 9 is available for the Samsung Nexus S, and there's also a beta for the Samsung Galaxy S.
The builds have been available for about a week now, and the chatter on the user and developer forums has been mostly positive, with the exception of a few persistent bugs involving MMS and a few other things.
CyanogenMod coder Koushik "Koush" Dutta says the development of version 9 is progressing well.
"Everything seems to be running great so far, and this ROM can easily be a daily driver for most enthusiasts," Dutta wrote in the xdadevelopers forum.
It's Risky
The caveat here is that there's always some risk associated with modding or rooting and it's possible to end up with a bricked phone. Be sure to use an app like Titanium to backup everything on your phone before attempting to install CyanogenMod.
So when will CyanogenMod bring its custom flavor of Ice Cream Sandwich to your phone? There's really no telling. As one of the CyanogenMod forum moderators, bassmadrigal recently put it:
"There is no roadmap, and no deadlines. The CM dev team keeps quiet about what they expect to have done and when. Part of this is because the members of the core dev team aren't the only people contributing CM. Many of the features and bug fixes come from people outside of the dev team."
Meanwhile, check out this list of phones most likely to get Ice Cream Sandwich in the near future to see if yours is primed for an upgrade.
Follow Eric on Twitter, and at ericmack.org. Follow PC World on Twitter, too.