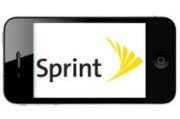 Sprint is the last U.S. wireless network that offers new customers unlimited data plans for their smartphones–a huge boon for data-hungry mobile users and recent adoptees of the iPhone. But as Sprint's network upgrades to LTE from 4G WiMax, analysts tell Reuters that the carrier's all-you-can-eat data buffet is about to end.
The reason Sprint may have to dump unlimited data plans is because the upgrade would strain the network even more than some iPhone users have already experienced. Sprint only allotted 10 MHz of its network spectrum for 4G LTE.
However, its main rivals, AT&T and Verizon–who no longer offer unlimited data plans to their new customers– each gave 20 MHz. In order to expand the reach of its LTE network, Sprint would have to reassign other airwaves, meaning all those questions for Siri and streamed music would slow to a crawl.
Reuters also mentions that the purposed merger of AT&T and T-Mobile could have negative ramifications on Sprint's network, whether it is approved or not.
If approved, all U.S. networks would be dwarfed by AT&T's. If the merger is dead in the water (as it appears to be), T-Mobile stands to gain $4 billion as a "break-up fee"–a big chunk of money that would help revitalize the fourth-largest network.
Sprint has not commented on the possible death of its unlimited smartphone data plans, so it's uncertain whether the company will allow existing customers to be grandfathered into the package like AT&T and Verizon did.
Either way, this news should give pause to consumers planning on joining Sprint solely because of their unlimited data plans, as unlimited data, it seems, wasn't meant to last–for anyone.