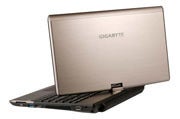 Gigabyte Technology Monday announced its Booktop T1132, which the Taiwanese hardware manufacturer is calling the world's first and only 3-in-1 laptop.
In essence, the Booktop T1132 is an 11.6-inch convertible Windows tablet; we've seen lots of those before, from the Acer TravelMate 100 to the Fujitsu Lifebook T580, but convertible tablets have never really become popular outside of niche business segments.
However, the T1132 has a unique trick up its sleeve: Besides swiveling from laptop to slate tablet mode, the convertible tablet can dock into an unusual, optional docking station.
The docking station is what Gigabyte is claiming will turn the T1132 into the equivalent of a desktop PC. The docking station offers the usual additional ports (USB, audio, Ethernet, VGA) plus a super-multi DVD drive that you can detach and also use with a different computer. When docked, the laptop is in portrait mode and can be used in conjunction with a second monitor and a keyboard for dual-screen multitasking.
Other than the swiveling tablet design and the docking station, the T1132 appears to be your mid-range convertible laptop. Powered by an Intel Core i5 processor, the laptop will offer a range of hardware configurations: 2GB or 4GB of RAM (max is 8GB), either integrated Intel HD Graphics or a dedicated NVIDIA video card, and up to 750GB of hard drive storage.
Who Could Benefit by Using the T1132?
The T1132's versatility might appeal to mobile workers (or, perhaps, people who can't make up their minds whether they want a laptop or tablet and also want a docking station), but the main hindrance I see for it is the same as with other similar netvertibles: Microsoft Windows 7.
Unlike the iPad's iOS 5, Windows 7 wasn't really designed for touchscreens. However, touch-optimized Windows 8–which the T1132 should be upgradable to–could solve this issue. The swiveling tablet design is a concept Intel is also pushing for upcoming Ultrabooks.
All that's left to discover is when the Booktop T1132 will be available and if it will cost more or less than the $1300 price of the previous T1125 model. High prices have also been a sore point for convertible tablets, so here's hoping the T1132 can overcome that barrier too.
Follow Melanie Pinola (@melaniepinola) and Today@PCWorld on Twitter