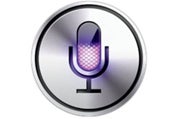 Ever since the iPhone 4S first hit shelves, the hacking community has been busy trying to bring Siri to other devices. But now, a jailbreak-friendly program dubbed Siri0us promises to brings Siri's voice dictation to not only the iPhone 4, but the fourth generation iPod touch and the two-year old iPhone 3GS as well.
Prior to October's iPhone 4S release, Siri was available as a standalone application in the App Store. As you would expect, this older version of the Siri software worked on devices such as the 3GS, so when Apple pulled the app and integrated Siri directly, and exclusively, with the iPhone 4S hardware many were confused.
Why limit this neat feature? Some have suggested that it was purely a marketing one. We don't know for sure, but recent hacks have shown that older hardware can handle Siri just fine. Either way, Siri0us differs from earlier hacks in that it doesn't require any 4S UDID's, files or special keys. If you have a jailbroken device, you can download the hack via Cydia, install it, and start talking, as shown in the below clip:
In order to get the free ad-supported hack working on your deice, you'll need to add 'http://apt.if0rce.com' as a source within Cydia, and then search for Siri0us. As pointed out over on iDownloadBlog, the developer is aware of some bugs, and you may need to try a few times to get things working.
Let us know if you give it a try in the comments.
Update, Nov 29, 2011: As noted by Macgasm and others, Siri0us is currently unavailable because Nuance, the company that makes the speech recognition technology that Siri0us relies on, took issue with it. Guess this isn't entirely unexpected…
Like this? You might also enjoy…
Get more GeekTech: on Twitter – on Facebook – via RSS | Tip us off
Note: When you purchase something after clicking links in our articles, we may earn a small commission. Read our affiliate link policy for more details.