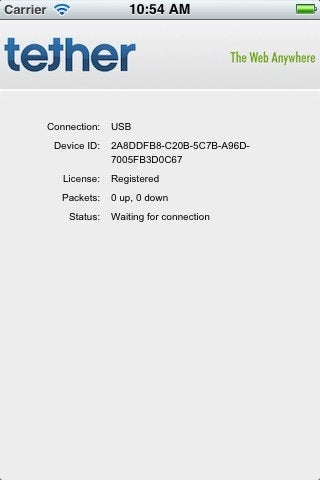 UPDATE: Apple has removed iTether from the App Store. Don't say we didn't warn you. If you've downloaded the app already, you should be able to keep using it. Original story below.
An iPhone tethering app called iTether has landed in the App Store, promising to turn iPhones into portable modems with no monthly fees or jailbreaks required.
iTether costs a one-time fee of $15, and connects PCs to the Internet through a USB connection from the iPhone. By comparison, AT&T and Verizon charge $20 per month for their tethering plans, and Sprint charges $30 per month.
Companion desktop software, available through Tether.com, is also required. However, the Website is struggling to load at the moment. I'm guessing demand is quite high.
I haven't tried iTether myself, but if you're willing to gamble $15 on the possibility of iPhone tethering without monthly fees, you should probably do it soon. The terms of service for AT&T, Sprint and Verizon Wireless all forbid users from tethering their smartphones without paying for the service, so they'll probably ask Apple to remove iTether from the App Store.
Even if you snag the app before it gets pulled, there's no guarantee your carrier won't find out and retaliate. AT&T has been cracking down on free tethering, and switching some users over to its DataPro plan automatically. Verizon has reportedly been showing a warning page to users who tether without the carrier's approval.
Still, even a one-time use of iTether costs less than getting a month of service through wireless carriers, so it could be worth a shot if you're about to hit the road without Wi-Fi.
Follow Jared on Twitter, Facebook or Google+ for even more tech news and commentary.