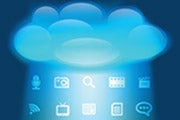 If your business isn't leveraging cloud technology as part of its daily operations yet, there's a good chance that it will be within next few years. According to Cisco, the global Internet traffic generated by the use of cloud computing services will increase 12-fold by 2015.
If you've been too preoccupied with the business of growing your business to consider what cloud computing could offer, don't fret. Here are five points to help you decide whether the time is ripe for your business to invest in the cloud.
1. Lower Cost of Ownership
Moving your business-critical data and applications to the cloud can be significantly more cost-effective than maintaining on-site server hardware. As your data is stored offsite, there's no need to invest in the costly purchase, maintenance, or upgrade of onsite server hardware.
Additionally, as the data and software your company depends upon moves off-site, you may be able to scale back the number of IT employees or contractors needed to keep your on-site hardware running. All of this can add up to a sizable chunk of change that could be directed towards other areas of your business.
2. Dependability
Speaking of IT personnel, when you turn your data-wrangling over to a company that specializes in providing cloud computing solutions to business, you're not just investing in an off-site storage solution, but you're also buying the peace of mind. Cloud solution providers like Amazon, IBM, Cisco, and Microsoft staff trained personnel ready to respond to emergencies, frustrations, and failures 24 hours a day, 365 days of the year, ensuring that you and your employees will have access to business files and applications, and the assistance to use them effectively when needed.
What's more, by default, cloud computing provides an instant off-site backup solution. Should disaster strike at your office, the continuity of your business will be ensured, thanks to the fact that your important client, supplier and financial information are all stored elsewhere.
3. Scalability
Having a computing solution that can grow quickly to meet the demands of your employees and customers is a must. As your business grows, your cloud computing solution can quickly be scaled to meet the increasing demand data demands of your employees and customers. This can be especially important for companies who rely on Web-based sales as a significant part of their revenue streams: A lack of server capacity can quickly translate into lost sales.
4. Mobility
With your company's data streaming from the cloud, you and your workforce can be productive anywhere there's Internet connectivity. Employees can work from their desks or from their cars. You can access, work on, and update mission-critical data, such as a PowerPoint presentation for an important client, from your office before sales personnel use it on the other side of the country.
Perhaps most importantly, on days where you just can't bear the thought of heading into work, you'll still be able to keep tabs on your business from a laptop or tablet from the comfort of your own home. (Just remember to change out of your pajamas before doing any video conferencing.)
5. Future-Proofing
Everyone knows that a new car depreciates as soon as you drive it off the lot. The same can be said for computing solutions: As soon as you invest in new hardware or software, something faster or more efficient will be announced. Thanks to cloud computing, this cruel reality becomes a frustration of the past. Cloud computing provisioning is a business, and just like any other money-making venture, competition is the name of the game. As new, faster technologies emerge, you can bet that your provider will jump at the opportunity to provide them to you, for fear of losing your business to another company. This means that the software you use, and the speed at which you'll be able to access your data will typically be second to none.
Seamus Bellamy is a Victoria, Canada-based author, journalist, and all-around geek.