Ever dream of designing three-dimensional models for games and animated movies? We examine two free options and a new version of a well-known professional 3-D modeling program. Each has its own niche and can produce excellent results–but if speedy creation is your goal, you may get what you pay for.
Blender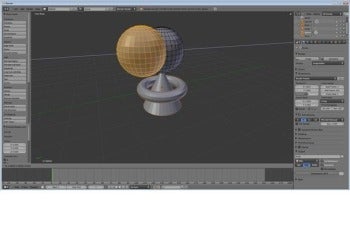 Blender is pretty daunting to someone who's never used 3D modeling or animation software. For me, using Blender 2.60a was somewhat like having to know exactly how my car works before I can drive it: a no-brainer for some people, but it's not for everyone.
Using Blender to draw objects from scratch is pretty daunting, especially if you are trying to create something highly complex. You start from scratch, and–unless you happen to be an Autodesk Maya expert–should expect that you are going to have to read the manual, follow the tutorials, and do lots of homework. Lots. Unlike any 2D art or 3D design software I'm familiar with (Adobe Creative Suite, CorelDRAW, Xara Designer Pro, Poser 9, etc.), Blender seems to favor users who also are programmers or gamers, or at least engineering-inclined. But since Blender is entirely free, it's worth the effort if you are serious about 3D art and animation, whether amateur or pro, and have a lot of artistic talent and perseverance.
Read the full review and download Blender (free).
3DCrafter
Amabilis Software's 3DCrafter is a modeling and animation tool that promises drag-and-drop control. Don't be fooled into thinking this is easy, though: You need both artistic talent and a knack for engineering. Using 3DCrafter 9.1.1 is a bit like building a Lego model without instructions. With chopsticks.
Floating built-in tutorials make 3D Crafter easy to start learning, but some artistic talent and a penchant for engineering are a must if you are to master the program's many features. I found 3DCrafter's many non-intuitive buttons and lack of menus daunting and a little disappointing. 3DCrafter either has missed the point of drag-and-drop simplicity, or has so many features it's impossible to organize them all in a logical way.
For a beginner, compared to the frustration level of a program like Blender, 3DCrafter has hit the mark on one thing at least: tutorials. The Help menu includes the usual content and search features, but also a tutorial viewer that includes tutorials for all levels, from first-user to pro. There is also a "tip of the day" pop-up feature. It's not quite detailed enough to be useful on its own, but coupled with the help search, can help you learn a new trick or two.
Read the full review and download 3DCrafter (free).
Poser
Poser 9 is not just for geeks wanting to create their very own Weird Science. The program makes it so easy to get started with 3D modeling, it's the go-to tool anytime you need to manipulate or animate a 3D figure. Whether that figure is an animal, human, or alien, Poser 9 can make it dance.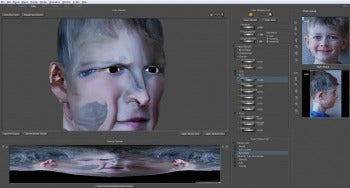 Poser 9 comes bundled with more than 1.7 GB of skeleton, nude, animal, and cartoon/fantasy/anime characters plus clothing, hair, props, scenery, and textures. You can import your own in a number of formats as well. You may also purchase (and sell) additional manipulative creations from Content Paradise, a "Poser market" Web site operated by Smith Micro, Poser's publisher.
Although Poser 9 can create scenery and props–even things as complicated as cars–the program excels at the manipulation of figures. Poser 9 has perfected the simplicity of controlling features, expressions, and detail like skin tones. It's very easy to change everything from chin (forward/backward, pronounced/recessed, retracted/jutting, shallow/deep, small/large, short/tall), to ethnicity, age, and gender.
Read the full review and download Poser ($250, buy-only).