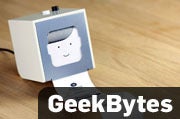 Welcome to the daily edition of GeekBytes for November 29, 2011. In today's instalment, we take a look at some interesting gadgets you can either buy or make yourself. Hint: could also be useful for a certain holiday coming up shortly!
Don't forget: If you think another clever or quirky gadget is missing off the list, tell us in the comments or drop us an email.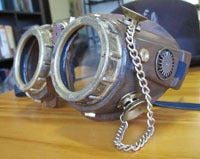 Work in a lab and want your goggles to stand out above the rest? As Instructables member Carlton Designs suggests, simply give them a good lick of paint and turn them into Steampunk googles. Carlton Designs created its googles by taking a normal pair, painting them to mimic wood and metal textures, and adding a chain and various metal objects. And there you have it–classy, Victorian-era goggles.
If you don't feel like scouring the Web for news, check out Little Printer. Once connected to your phone, this tiny box by BERG will hunt to bring you news you will like from The Guardian, reel your agenda for the day, or even recommend you places on Foursquare–all on sheet of paper the size of a shopping receipt. Check out the video to see it work. [via The Verge]
Want to make sure all your files are secure from being not only misplaced, but opened? A Kickstarter project has just the product to help. Crypteks USB is a USB stick that you can lock and unlock using a combination. The USB stick sits within a number of rings, which all hold part of a combination: Get the code correct, and the tiny stick can be freed from rings to be used as normal.
The Sofshell for iPad and iPad 2 covers are made from medical-grade proprietary elastomer, so it can grip to most surfaces at up to a 70 degree angle without causing your iPad any potential harm. Also, if the iPad does fall or get dropped, the case can apparently reduce the shock by up to 43%. Sofshell is so confident in its product that it tested the case using a car driving at 60mph–check out the result below:
Today's GeekTech Must-Reads
Get your GeekTech on: Twitter – Facebook – RSS | Tip us off