At a Glance
Expert's Rating
Pros
Compact, attractive, and lightweight
Excellent battery life
Mobile broadband module
Cons
No dual-band Wi-Fi
Uninspiring performance
Our Verdict
Weighing under 5 pounds, the compact Vostro 3350 offers excellent battery life, but performance disappoints.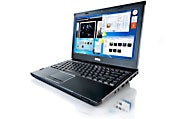 As all-purpose laptops go, the Dell Vostro 3350–the entry-level model in the current version of Dell's small-business line–leans closer than most to the ultraportable side of the fence. Its 13.3-inch, widescreen, LED-backlit display is set into a sleek and attractive 4.9-pound package that, when in use, won't elicit howls of discomfort from the person seated in front of you in economy class, and its excellent battery life should easily get you across the country on said flight.
Those factors make the Vostro 3350 a good candidate for travelers on a budget, since precious few true ultraportables are as inexpensive as our test unit ($750 as of July 5, 2011). To reach that price, however, you do have to accept some compromises. Configured with a Core i3-2310 (one of the least powerful current Intel Core processors), 3GB of DDR3 RAM, integrated Intel HD graphics, and the 64-bit edition of Windows 7, our test machine managed a score of only 98 on our WorldBench 6 tests. That's low for an all-purpose laptop, and it falls shy of the scores on our top-ranked ultraportables chart, making the Vostro 3350 less than optimal for tasks involving serious number crunching–large database operations or video editing, for example.
Gamers will probably want to look elsewhere, too–the Vostro 3350's integrated graphics delivered mediocre frame rates in our gaming tests. Video quality was adequate but not great on the bright 1366-by-768-pixel display: I noticed some smearing in clips with motion, and although off-axis viewing on the sides was fine, the image deteriorated pretty quickly from above or below. However, the laptop's single integrated speaker produced surprisingly robust audio, and its integrated 1-megapixel webcam (with Dell's user-friendly Webcam Central software) and array microphone were fine for Skype video calls.
Battery life was excellent by any standard: In tests, our evaluation unit lasted 8 hours, 44 minutes. Another advantage is the laptop's DVD burner (8X DVD±RW with double-layer DVD±R write capability), something you don't always get in a portable of this size. The 320GB hard drive, while a bit small by today's standards, at least spins at a zippy 7200 rpm.
Otherwise, the port and slot array is fairly typical. Behind the DVD drive (located toward the front of the left edge) are a gigabit ethernet and two USB 3.0 ports; on the right edge, from front to back, are the headphone and microphone jacks, a shared USB 2.0/eSATA port, and HDMI and VGA ports.
A multiformat (SD Card, MultiMediaCard, Memory Stick) card reader is on the right of the front outside edge; to the far left is a tiny strip of indicator lights for power, hard-drive activity, battery, and wireless connectivity. Our test laptop came with 2.4GHz 802.11n Wi-Fi and built-in support for Sprint's EVDO-Rev. A mobile broadband network (but you must purchase a plan, of course). I would have liked to see dual-band (2.4/5GHz) Wi-Fi since the 2.4GHz variety tends to choke in a crowded urban environment with lots of legacy 2.4GHz networks.
I also would have liked to see an actual on-off switch for the Wi-Fi on the exterior of the case (not just an indicator light). Instead, to turn it on or off, you have to open the lid to access a function key. Another function key controls a backlight for the island-Chiclet keyboard, which is a bit mushy compared with keyboards on other Dells I've tested. It's a full-size keyboard, though, and I've typed on worse. The gesture-enabled touchpad was also fairly responsive.
Below the right side of the keyboard is an integrated fingerprint reader; an included biometric security app registered my print in only a few swipes (these things are definitely more user-friendly than they used to be). The Vostro 3350 also supports Bluetooth for easy connections to peripherals such as printers and mice.
I like the industrial design of this Vostro generation. The silvery aluminum case (also available in red and bronze) feels sturdy without looking clunky; inside, atop the keyboard, you get three buttons for easy access to Dell's customized Windows Mobility settings, Dell support, and an application of your choosing.
The included software bundle is minimalist: Dell even lets you choose whether to get the free Starter edition of Office 2010 or an antivirus package. My review unit came with Roxio Creator Starter (for the DVD burner), CyberLink PowerDVD 9.5 (for playing movies), Skype, a couple of basic Dell utilities (including software for Dell's backup service), and not much else.
Overall, I'd happily recommend the Dell Vostro 3350 to general business users who travel a lot and like a compact laptop, but who would rather shoulder an extra pound of notebook weight than spend several hundred dollars more for a sub-4-pound ultraportable with no optical drive. The Vostro 3350 does a nice balancing act between portability, features, and power: It may not excel at any of them, but it delivers quite adequately on all of them.