At a Glance
Expert's Rating
Pros
Attractive design
3D games are fun
Cons
LG's Android user interface is a bit clunky
Sometimes 3D can hurt your eyes
Our Verdict
Although we're not entirely sold on 3D technology for mobile devices, the LG Optimus 3D is a fun yet powerful phone–3D or not.
One of the most buzzed-about phones at Mobile World Congress was the LG Optimus 3D, the first mainstream phone to rock a 3D display. On top of that, the Optimus has a slick design, a dual-core processor, and a 3D camera/camcorder. We were disappointed when LG announced that the Optimus 3D was neither a 4G phone nor destined for the United States. Imagine our joy, however, when we found out at CTIA that it would be rebranded for AT&T's HSPA+ network as the LG Thrill 4G. The Thrill 4G isn't available yet, but LG sent us an Optimus 3D review unit as sort of a preview of what's to come.
Polished Design
The Optimus 3D looks a lot like the LG Revolution 4G, with brushed-plastic detailing and a silver strip running down the battery cover. Like the LG T-Mobile G2x, its backing has a nice curve. It feels well made and sturdy, with metal around its borders and a rubberized matte-black battery cover. Measuring 5.07 by 2.68 by 0.47 inches, the Optimus 3D is slightly bigger than the 5.03-by-2.63-by-0.52-inch LG Revolution. The Optimus 3D is a bit lighter, though, weighing 5.93 ounces as opposed to 6.06 ounces. Still, it is a little on the hefty side–and for my small hands, the Optimus 3D isn't the most pleasurable thing to hold up to my ear for a long amount of time.
The display and touch-sensitive buttons are glass, which gives the phone a high-end feel. At the top of the phone, you'll find a 3.5mm headphone jack and a power/lock button. On the left spine are the HDMI and USB ports (they're covered, which is sort of an interesting design choice). On the right spine is a volume rocker, along with a button that lets you toggle between 2D and 3D mode.
3D Display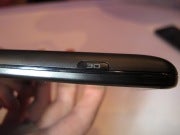 Although 3D is slowly becoming more prevalent in other product categories, such as TVs and cameras, it certainly isn't a mainstream technology. As for phones, just two other 3D phones are out on the market: the Sharp Lynx 3D (available only from Docomo in Japan) and the HTC EVO 3D (available in the United States on Sprint).
Fortunately, you don't have to wear goofy glasses to see up to 720p 3D video on the Optimus 3D. So how does this 3D technology work? Such phones have parallax barriers, a layer placed in front of the display to allow it to show a stereoscopic image (that is, a 3D image) without the need for those dorky glasses. Basically, the layer consists of a series of tiny slits that allow each eye to see a different set of pixels.
The downside to the technology, however, is that in order to see the 3D effect, you must be positioned directly in front of the screen; if you view it at a slight angle, the image will be a blurry mess. Looking at the display straight on can be difficult with a small screen, such as that of a phone. With an image or a short video clip, it isn't too hard to hold the phone directly in front of your eyes for a few seconds. With a longer 3D video, however, I can see it being a real pain. You'd have to set the phone up on a dock and then make sure you're angled correctly throughout the entire movie–no lying on the couch.
If you're expecting the Optimus 3D's display to resemble a big-screen 3D movie, you'll be disappointed. Images don't exactly burst out of the screen. Rather, it looks as if you can peer into the phone much as you would a diorama. It is a neat effect, for sure, but after awhile my eyes started to get tired from it. I have similar problems with the Nintendo 3DS, so this might just be my personal preference.
In my hands-on comparisons, I found the Optimus 3D's three-dimensional display slightly blurrier than the EVO 3D's. You can also see the touch sensors (which look like tiny dots) in the display when the handset is in 3D mode; the effect isn't particularly noticeable, but it doesn't make for a very clear image either.
We're going to pit the Optimus 3D and the HTC EVO 3D against a Nintendo 3DS and the LG-made T-Mobile G-Slate, all of which have 3D displays. Check PCWorld.com next week to see which device reigns supreme in the battle of small 3D displays.
3D Content
The Optimus 3D has a dual-lens 5-megapixel camera (more on that later), so you can capture 3D video, upload it to YouTube 3D (LG has announced a partnership with Google's video-sharing service), and share it with other 3D devices. You can also hook up the phone to a 3D TV via the HDMI port. Again, though, how many people have 3D TVs?
When you press the 3D hardware button, the phone switches into 3D mode and takes you to the 3D Space, a carousel of 3D content. You can also get there by touching a widget on the main home screen. From there you can access YouTube 3D videos, your 3D Gallery, the 3D Camera, and the 3D games from Gameloft. It is nice to have all of your 3D content in one easy-to-find place.
The 3D quality of the YouTube videos varies, but I found a couple of neat videos. 3D videos are marked with a small badge so that you don't accidentally hit a 2D clip and think that your eyes are bugging out. Nature and landscape videos are the coolest by far, and they had the best 3D effects out of all the videos I tried. I highly recommend the Northern Lights video of Iceland.
The 3D games include Asphalt 6, Gulliver's Travels, Let's Golf 2, and Nova. Gulliver's Travels is actually more of a pop-up ebook than a game, but it is the perfect showcase for these kinds of 3D effects. The 3D effects in Asphalt 6, a racing game, aren't as pronounced, but the graphics are pretty cool otherwise and look great on the Optimus 3D's display. When you speed up, however, your car gets really blurry, so it is hard to keep control.
A message pops up before every game warning you to take breaks, as the 3D effect can cause dizziness. Let me underscore this advice: After only about 5 minutes of gaming, my eyes felt strained, and I got a headache. That's definitely not fun.
Decent Android Overlay
Unfortunately the Optimus 3D does not ship with the latest version of Android, otherwise known as Gingerbread. LG hasn't gotten back to us yet with an exact date for when it will update from Android 2.2 to Android 2.3.
LG has a custom-built overlay running atop the OS. Mostly, the overlay behaves as native Android does. You get a slick swipe-up lock screen and a useful home-screen system. Dots running across the home screen help you keep track of which home screen you're on. As in HTC Sense, here you can see thumbnail-size versions of your home screens by pinching out on any screen; from there, you can jump between them. Four icons–Phone, Contacts, Messaging, and Apps–consistently run below the home screens. The LG widgets are resizable, à la Android Honeycomb, which is a nice touch.
The Optimus 3D's App Drawer is kind of a mess–I really wish LG had kept it untouched. Preinstalled applications are organized by category: Communication, News & Search, Media, Tools, Applications (which is empty), and Downloads. The apps are organized for you, but you can drag and drop the app icons to reorganize them to your liking. Regrettably, you can't create your own categories. I appreciate LG's attempt to practice some kind of app taxonomy here, but it feels a bit restrictive.
2D and 3D Camera
As I mentioned previously, the Optimus 3D's camera has dual lenses, so you can shoot video and still pictures in both 2D and 3D modes. The camera interface has a dedicated button that you can tap to switch between the two modes. (You can also press the 2D/3D hardware button on the phone's spine if you prefer.) Other than the 2D/3D switch, the camera interface is very simple and similar to that of other LG smartphones.
The phone's 2D images look really good, with natural colors, crisp details, and little to no pixelation. Its 3D images looked okay, but a bit on the blurry side. However, the image quality was pretty much in line with that of the HTC EVO 3D's camera. Again, in the near future we're going to do a side-by-side subjective test of camera image quality with the EVO 3D, the Nintendo 3DS, the Optimus 3D, a stand-alone 3D camera, and the T-Mobile G-Slate, so stay tuned.
Bottom Line
The LG Optimus 3D is a powerhouse phone–whether you take its 3D features into consideration or not. But my opinion of 3D on the small screen remains more or less the same: Though it is fun to watch short videos in 3D or to take 3D photos, 3D is still a novelty feature. I'm definitely curious to see how the phone looks when it debuts in the U.S. as the Thrill 4G on AT&T.