Smartphones and driving don't mix. That may seem like old news to you, but a recent study says there's no evidence laws banning the practice are reducing crashes.
Recent studies reported Thursday by the Governors Highway Safety Association say that at least one driver was reported to have been distracted in 15 percent to 30 percent of crashes, and cell phone use and texting increase the odds of car crashes.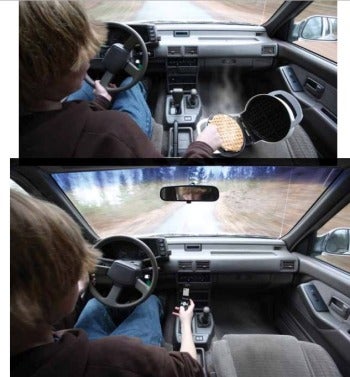 Despite laws in some states banning handheld cell phone use or texting while driving, about one-eighth of all drivers in recent studies report texting while driving, up from less than 1 percent in 2009.
The number of people texting while driving may actually be higher if we look at driving in a longer period: In three surveys of teen-age drivers and older, 24 percent of drivers reported texting while driving in the last 30 days. Thirteen percent of drivers age 18 to 24 reported texting while driving every day.
The GHSA study (PDF) suggests there is no evidence cell phone or texting bans have reduced crashes.
For example, as of June, 30 states and the District of Columbia prohibited the use of all cell phones by novice drivers and 41 states and D.C. prohibited texting by novice drivers, yet there is no evidence that novice driver cell phone or texting bans are effective, according to the GHSA. The group says distracted driving communications campaigns and company policies and programs are widely used but have not been evaluated.
If you know someone who drives while distracted by a smartphone or another handheld device, consider forwarding them an app like DriveSafe.ly.
Follow Melanie Pinola (@melaniepinola) and Today@PCWorld on Twitter