The vast majority of the time I sit at my desk with my laptop connected to a full-sized keyboard, wireless mouse, 23-inch monitor, and plugged in to the wall. But, I have a notebook for a reason, and every once in a while I go mobile. For today's installment of 30 Days With the iPad, I am going to take a look at how the iPad compares to my notebook in terms of battery life.
First, for those who don't already know, my laptop is a Dell XPS M1330. It has 8GB of RAM, a 500GB Seagate Momentus XT solid state hybrid drive, and 64-bit Windows 7. Until about a month ago, it would last all of about 30 seconds when not plugged in because the battery was shot. But, I just replaced it with a new 9-cell battery, so the battery life it has today is pretty much as good as it is going to get.
To conduct my comparison of battery life I left both devices plugged in until they were completely charged. Then, to keep things as even as possible, I performed the same actions on both simultaneously. I tried to recreate a normal work environment, so I had open a word processor (Word 2010 on the notebook / iWork Pages app on the iPad), Web browser for researching (Internet Explorer 9 / Safari), email (Outlook 2010 / iPad Mail), Twitter (Tweetdeck / Twitter for iPad app), Facebook (site open in IE9 / MyPad app), my task manager (RTM website / RTM app for iPad), and some music playing constantly in the background (iTunes / iPod app).
I officially started the experiment at 2:30pm. I performed each task or activity on both devices in parallel. If I looked something up on the notebook, I looked the same something up on the iPad. If I checked my email on the notebook, I checked my email on the iPad. You get the idea.
By 3:08pm, the notebook was down to 65 percent battery life, with an estimated one hour and thirty-three minutes remaining. By contrast, the iPad 2 was at 91 percent capacity at 3:08 pm. Just over an hour later at 4:18pm, Windows 7 gave me a warning that the battery had hit 10 percent and was critically low–only an estimated 17 minutes left.
Four minutes later, the battery was down to seven percent and I got a more urgent warning that the system was preparing to hibernate due to the battery running out of juice. Official time of death for the Dell notebook was 4:25pm–just under two hours of productivity.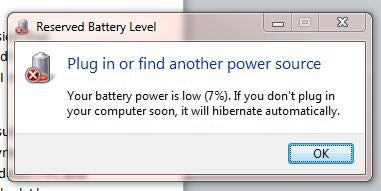 It is currently 9:42pm. The iPad 2 has been running the whole time. It is still playing music endlessly. It is still searching the Web. It is still checking email, writing this post, and keeping tabs on my social networks. And, the battery meter says it is at 22 percent. The notebook died in under two hours, while the iPad 2 has been going strong for more than seven hours at this point, and still has another few hours left apparently.
Say what you want about the pseudo-multitasking of the iPad, or the lack of Adobe Flash. You still have to give respect where respect is due. Whatever handicaps the iPad might have as a primary computing device, it is hard to ignore the benefits of the iPad as a mobile computing device.
My Dell notebook is pretty small by notebook standards, but it is still 1.3 inches thick and weighs four pounds. The iPad 2 is svelte–it's only about a quarter as thick as my notebook, and it weighs only about one-third as much. Yet, the iPad 2 is able to perform most of the same functions, and it is able to do so for at least four times longer on a single charge.
If I have to leave my desk and go mobile, I'll take the iPad 2.
Read the last "30 Days" series: 30 Days With Ubuntu Linux
Day 9: To-Do Lists and Task Managers