Until now, Google's Street View cars haven't been very popular in Japan. Many critics feared that Google's camera-equipped cars that are meant to capture panoramic snapshots of public streets were peeping over private fences and into Japanese homes. But now Google is repurposing its much-maligned vehicles to help with post-quake reconstruction in Japan and, in the process, has found a new ally.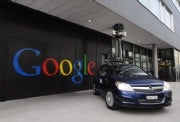 Google is now using its Street View vehicles and tech in the streets of Kesennuma and other Japanese towns devastated by this year's 9.0 earthquake and tsunami to record the damage and track reconstruction efforts.
This project is paired with Google's other humanitarian aids for Japan, including its Person Finder technology, a database of missing persons with information to help locate loved ones in areas that have been impacted by the crisis. Person Finder has collected 616,300 records, according to The New York Times, and is now Japan's largest database of missing people from the disaster.
On its crisis response site dedicated to the 2011 Japan quake, Google has posted interactive Google Maps to show satellite imagery, locations of shelters, areas of evacuation, and more. Similarly, Google put its photo service Picasa to good use by encouraging citizens to share photographs of people in shelters to aid in discovery efforts.

Reports on Google's post-quake efforts — including The New York Times and an account in an AdWeek — focus too much cynical energy on how Google's altruistic campaign is helping bolster its brand in a region where Yahoo still reigns supreme. These writers spend paragraphs chatting about how this could shift sentiment away from other online search services and build a stronger foothold for Google overseas. Look at it a bit simpler: this is a giant tech company using its products for the good of people. Leave the business out of it for now.