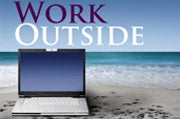 Laptops, tablets, and smartphones are supposed to make us mobile: Freed of cumbersome desktop technology, we can work anywhere we want. Why, then, don't you see legions of people at parks, beaches, or even sidewalk cafes typing away on their laptops? Mainly because they simply can't see their screens.
It doesn't have to be this way. A little planning and know-how can get you ahead of the game when it comes to using your gadgetry outside. Whether you're reading ebooks on your iPhone or sneaking in a few work emails while the kids build a sand castle, here's how best to set yourself up to work alongside Mother Nature.
Fall Into Shadow
When working outdoors, shade is your friend. In fact, if you haven't prepared in advance for your outdoor adventure, it's pretty much all you've got. Your only hope to see anything on most LCD screens is to find some shade and dig deep into it.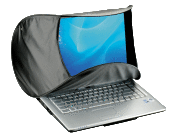 Anything can be used as shade in a pinch, from the obvious tree, umbrella, or side of a building to less evident objects, like a cast-off pizza box folded into a tent or, in a pinch, your own head. For head-shading, resist the urge to hold your laptop or mobile phone between you and the sun, thinking you'll block out the light like an eclipse: That simply won't work. Switch it around and put your head between the sun and the screen, so the shadow of your noggin falls on the display. This won't provide much shade, but, for limited use and with small screens like your phone, it will work well enough to at least read text.
Get Shade Anywhere
If working outside is going to be a regular thing for you, you might consider investing in a portable shade device that you can take with you as part of your travel kit. A company called Hoodman offers two clever covers that hook over your laptop's screen, shading it on all sides from sunlight while still giving you access to the keyboard. It looks a little strange–but no stranger than you will look working on your computer on the beach–and it works quite well. Best of all, the soft-sided shade collapses flat and stores easily in the included carrying case. Versions for Macs or PCs are available, both $40.
Outdoor Out the Gate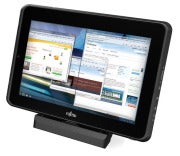 If you're a true outdoorsman, you may want to consider one of the small number of laptops that are available with so-called "indoor/outdoor" displays, designed for visibility inside or outside. When shopping, look for "I/O," "Outdoor View," or "Enhanced Outdoor" as part of the screen specs, or just ask–sometimes this key feature can be omitted completely from a list of a computer's specs.
This technology has been especially popular with older-style tablet PCs as well as a few newer slate tablets. Some current devices that include the technology are the Fujitsu Stylistic Q550, the HP EliteBook 2760p, and most of the Panasonic Toughbook line.
Compare and Contrast
Using a high-contrast color scheme will improve your outdoor viewing experience, no matter how much shade you have, by turning your working experience into a black-and-white one that scrubs out many of the shades of gray (and splashes of color) to which office users are accustomed. The result is a stripped-down computing experience, but one that will make outdoor viewing considerably easier.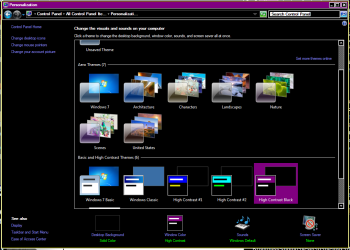 In Windows 7, open the Personalization Control Panel and scroll down a bit below the Aero Themes. You'll see the Basic and High Contrast Themes listed here. Experiment with the four high-contrast options to find the one that works the best for you–though adjusting to a white-on-black color scheme can be jarring and will take some acclimation time.
Your LCD brightness should generally be set to the maximum available (though this will put more strain on your battery), and you might also consider increasing the text size by using the "Larger – 150%" setting on the home screen of the Display Control panel, to make things even easier to read.
Get E-Inked
Got a lot of reading to do but don't want to put it on paper? Electronic ink devices like Amazon's Kindle are perfect for this kind of work, since the reflective screen is designed to work without backlighting. The result: Text on a Kindle looks even better under bright light than in the dark.
The newest Kindle can accept a wide variety of file formats, including Word, PDF, RTF, HTML, plain text, and various image formats for display on the device. Simply email the documents as attachments to the address noted on your Kindle's Settings page under "Device Email." Amazon offers copious additional details on the ins and outs of sending personal documents to your Kindle at this link. But remember that older Kindle models have different supported formats.
Surf's Up, Sand's Out
If your outdoor working adventure is taking you somewhere more exotic than the backyard, be sure to prepare for those twin menaces of all electronic devices, water and sand. Water is well understood as an electronic hazard, but sand can quickly brick anything with moving parts: A single grain of the stuff can kill your digital camera's zoom mechanism or prevent the shutter from opening and closing, not to mention scratching the screen of your tablet or laptop.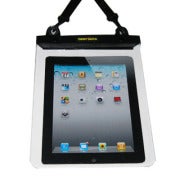 Protection from the elements can be as simple as keeping your gadgets in a sealed Ziploc bag when they aren't in use, or as complicated as investing in a custom, ruggedized, waterproof case. A wide variety of cases for all manner of devices are available. You can check out brands like OtterBox, XGear, and TrendyDigital to get started.
Now About That Web Connection…
Seeing your screen is one thing. Getting online is another. In parks, on beaches, and even in backyards, getting a Wi-Fi or cellular signal can be a challenge. Short of petitioning your carrier to erect a cell phone tower closer to the waterfront, these tricks can increase your chances of getting a wireless signal from a remote location.
Wi-Fi: If you're simply working in the backyard and are trying to access the Wi-Fi signal inside your house, you can accomplish this in a few ways. You can extend the signal outdoors by relocating your router near that side of the house or add a repeater to extend the signal outdoors. Aftermarket antennas can also be used with some routers to increase their signal strength, hopefully letting you reach your hammock in the gazebo with a Wi-Fi signal. If changing your router setup doesn't work, you can invest in a new Wi-Fi card for your laptop with an external, high-gain antenna, increasing your available range.
WWAN: Again, if you're near home and outdoor cellular signal strength (either for voice or data usage) is no good, you can use a femtocell to boost the signal. Verizon's Wireless Network Extender and AT&T's MicroCell attach to your home broadband connection and act as a sort of mini tower. Femtocell range is typically under 150 feet, so locate the unit near the backyard.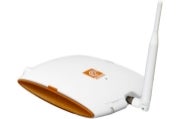 However, if you're in a public place and need a better signal, a few hacks can boost the number of bars you get on certain phones by one or two, although few of the hacks are very pretty. The website Wisebread experimented with an admittedly ugly wire-and-cans trick and claimed a three-bar improvement in a cellular signal. Rick Broida has some additional tips on the subject, including a discussion of zBoost, which is a more appropriate range-boosting solution for newer phones, MiFi units, and mobile hotspots–all of which increasingly lack the external antenna connector required for tricks like the cantenna described above.
Don't Forget the Juice
As a final consideration, remember that working outdoors usually means being disconnected from the grid, and since upping the contrast and other tweaks can drain your battery faster, you may find your laptop fading before your sunscreen does.
The solution is simple, if on the expensive side: Upgrade to an extended-cell battery, using a "battery slice," which is a flat battery that locks onto the bottom of a laptop–or simply carry spare batteries with you to get considerably more running time when you're working remotely. For smaller devices such as cameras or dedicated voice recorders, rechargeable batteries generally provide more bang for the buck.
More esoteric power solutions–like solar recharging systems–won't offer much help. Most of them just don't have the power required to provide much of a boost to anything beyond a cell phone or camera–and even then, their internal batteries will need to be charged before you head out.
However, before draining your gadgets out in the wild, you can follow some proven tips to help boost the battery life of your laptop and smartphone.
Related Articles
What gear and tricks do you use to work outside of the office? Please share your tips in the comments below. For more advice, see the following articles.